Satisfying China's appetite for imported food
China represents a huge market opportunity for foreign food producers. Its burgeoning, and increasingly sophisticated, middle class has developed an insatiable appetite for foreign foodstuffs, which a series of domestic food scandals has only served to drive further.
Foreign companies are scrambling to grab a slice of this pie, but they should tread very carefully in what is a highly complex environment. Vast amounts of imported food are destroyed every year due to issues surrounding quality or a misunderstanding of regulatory requirements. This short article outlines some of the factors that foreign food companies need to consider when approaching China's food market.
Extensive documentation must be completed before you ship your goods to China. Depending on the product type, the required paperwork may include: contracts and commercial invoices, packaging lists, bills of lading, certificates for export from country of origin, hygiene or health certificates, certificates of bottling and certificates of free sale. These documents are reviewed only after the shipment reaches China, so you must ensure they are complete and authentic in order to avoid any expensive delays and storage cost.
In general, food products entering China do not require pre-import licensing. However, if you are importing poultry or dairy products, you will need to obtain an Automatic Import Licence issued by the Ministry of Commerce. Food items subject to import tariff quotas such as wheat, corn, rice and sugar are required to obtain the Agricultural Products Import Tariff Quotas Certificate.
Imports of a wide range of products, including foods and drinks, must then be approved by the General Administration of Quality Supervision, Inspection and Quarantine (AQSIQ). To manage entry/exit inspections and quality controls all over China, AQSIQ has set up 35 China Inspection and Quarantine Service (CIQ) offices in 31 of China's provinces to manage inspections and quality controls. In addition, there are hundreds of local offices and branches that operate close to harbours and airports and manage inspections and quality assurances.
CIQ has the power to decide whether your product will be allowed to enter China or not. Upon shipment of your product to China, and provided the documentation is in order, CIQ will issue a sanitary certificate; the sale of your product in China would be illegal without issuance of this certificate.
An amendment under the 2015 Food Safety Law means that all food imported into China must be labelled. Labels are also subject to CIQ approval and should be provided in both original and Chinese language. Required information will include country of origin, ingredients, production and expiry dates, and distributor details. There are a number of specialist import consultancies in China that can provide advice on labelling from both a compliance and a marketing perspective.
Regulations will inevitably vary depending on the specific food type, while different localities may offer diverging interpretations of the regulations. We would strongly suggest working with established experts in the fields of importation and distribution to help with your strategy and compliance.
We would also strongly advise that you register your trademark in China. Many foreign companies have overlooked this and paid the price. Your trademark needs to be specifically registered for China and you should not assume that a registration in another jurisdiction is enforceable in China. Trademark disputes are common in China but with the correct registration your brand will be protected. It would be advisable to register a Chinese version of your trademark too. Sovereign partners with a renowned global law firm to assist clients with trademark registration.
The food sector undoubtedly represents a massively lucrative market opportunity for foreign producers, but the complexity of the standards and regulations, which can also be subject to rapid change, dictate that you should only approach the market having undertaken proper diligence and with the support of qualified and experienced partners. Sovereign is familiar with a number of import/distribution/certification consultancies that may be able to assist you.
Chinese business licence reform: 'Three-in-One' expands to 'Five-in-One'
Every company in China is required to have a business licence, a tax registration certificate, an organisation code certificate, a social security registration certificate and a statistical registration certificate. As part of a broader effort to speed up the rate of business registration in recent years, China has been working to simplify administrative procedures by combining these certificates into a single licence.
As of 1 October 2015, a 'Three-in-One' business licence was rolled out to encompass the business licence, organisation code certificate and tax registration certificate. Then, in July 2016, the State Council issued a circular to fully implement a 'Five-in-One' business licence, which also incorporates the social security and statistical registration certificates, across China as of 1 October 2016.
The circular sets out plans to establish an online business registration management system and an information sharing platform between all the departments involved in the registration procedure so as to ease implementation. It also endorses the extensive use of the new business licence, such that all governmental departments should recognise and accept it as official documentation.
The deadline for companies to update to the 'Five-in-One' business licence is 31 December 2017. Companies that have previously registered under the 'Three-in-One' licence are not required to submit a new application for the new licence. Their information will be automatically sent to relevant departments and a new licence will be issued. However, it is still prudent to seek confirmation in case of any variation at local levels.
After 31 December 2017, the individual certificates held by companies will be deemed invalid. This will severely limit a company's ability to operate in the market if they are not already in receipt of a new business licence. It is therefore recommended that companies should apply to upgrade to a 'Five-in-One' business licence as soon as possible.
Once a new business licence is issued, a company is then required to:
Activate the online tax filing system under its name;
Sign a three-party agreement with an authorised Chinese bank so that tax can be deducted automatically;
Apply for the official VAT invoice (fapiao).

It is recommended that companies confirm with their internal accounting departments or their outsourced accounting service provider that this process has been completed or is at least underway.
This business registration reform is part of a broader effort to ease market access by simplifying administrative procedures. Please contact Sovereign if you would like any assistance with processing these changes.
Not so 'Poorly Made' in China
If you think that it's simply not possible to manufacture high-quality product in China, think again. Russ Cohen of Manufacturing Services Agency Limited explains why China is his number one choice for manufacturing "Brand Quality" products.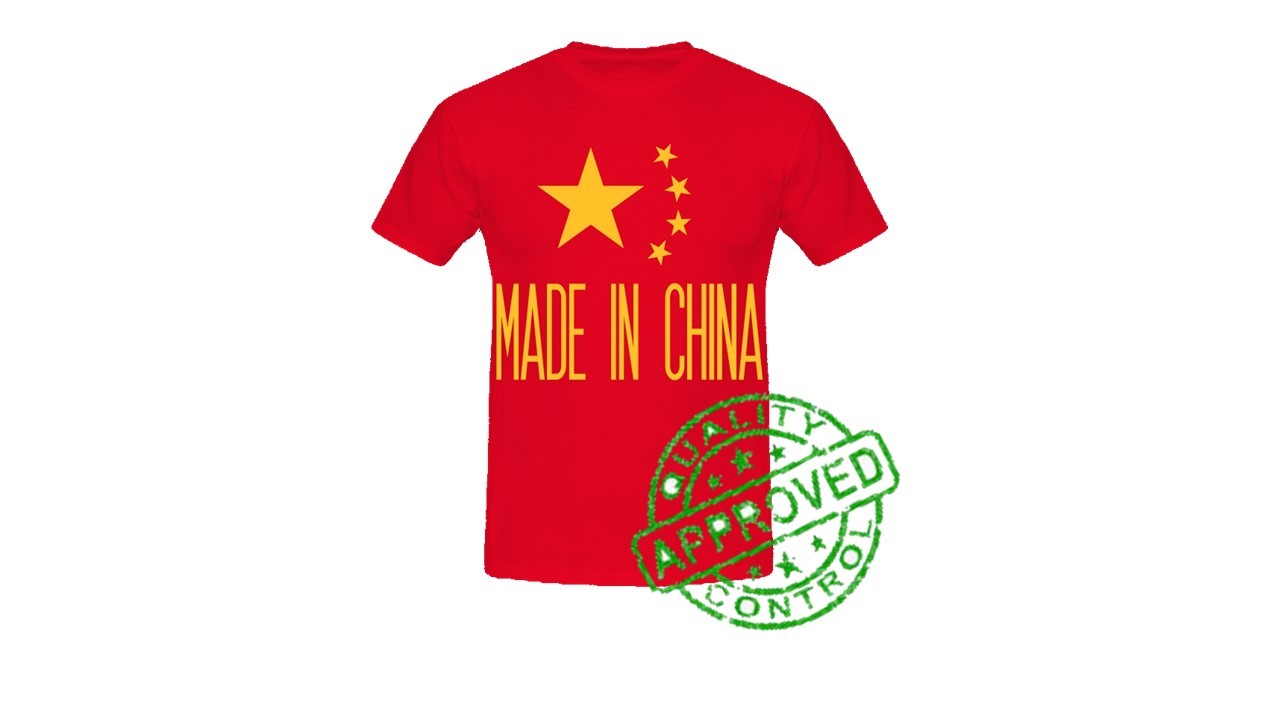 Twenty years ago, the word 'quality' generally only appeared in relation to 'China' if other words such as 'poor', 'bad' or 'dodgy' were included in the same sentence. Yet today, while there are still many factories of 'variable' quality in China – just check out the (in)famous Alibaba.com for some reviews! – China would be at the top of my list if I were looking to manufacture a consistent, reliable product at a competitive price. Here's why.
As a qualified geologist I've always been interested in evolution. I never practiced my trade but I have been fortunate enough to witness and be part of the evolution of the Chinese manufacturing industry over the past two decades.
In the 1970s everything was 'Made in Hong Kong'. I remember because my Dad used to travel there a lot and he would send home postcards showing food that looked like it was from another planet or a skyline that blew Margate out of the water.
Then Hong Kong became too expensive, so in the 1980s everything was made in Taiwan – the label in my T-shirts said so. Still the same amazing post cards of food but less neon. And then, of course, Taiwan in turn became too expensive and, by the mid-1990s, China had begun to open its doors. So Taiwanese and Japanese firms began to open factories on the Chinese mainland. Their Western customers came to buy their product and they brought their metallurgists, designers, engineers, supply chain and quality assurance experts with them.
Their aim? To work with the factories to make 'brand-quality' goods that met rigorous quality standards sourced at the most competitive prices. They trained workers, raw material suppliers and management alike. They transferred technology, shared their business philosophies, views and opinions, successes and failures. As a result, we have had 20 years of continuous improvement in how to produce better, more consistent and reliable products under tight cost controls.
In 2010 the Chinese government released a five-year plan that stated that it would double the minimum wage by 2015. It planned to build a population with more disposable income that would itself have the ability to consume the goods that the country produced, thereby reducing its reliance on exports.
Low tech, low innovation, low quality mass production that relies solely on cheap labour was not part of this plan and is now effectively costed out of China. If you want that, just check your T-shirt label to find out where to go. But if you want to manufacture a quality product that can be reliably produced at a competitive price, consistently, come to China. There's a lot of good here, if you know where to look.
---
Russ Cohen has lived in Southeast Asia since 2000, working in manufacturing, supply chain, quality and logistics for raw material supply businesses, as well as with brands such as Maclaren and Crumpler. He currently heads up Manufacturing Services Agency Ltd., which provides support for small to medium-size businesses for manufacturing and supply chain services in Greater China and Southeast Asia.
If you would like more information on the Manufacturing Services Agency, you can go to www.e2emanufacturing.co.uk. You can read also more his articles at http://e2emanufacturing.co.uk/blog/ or at the links below:
Manufacturing in Asia: An insight from the frontline:
https://www.linkedin.com/pulse/manufacturing-asia-insight-from-frontline-russell-cohen
Sourcing the right Manufacturing Partner – 5 key considerations
https://www.linkedin.com/pulse/sourcing-right-manufacturing-partner-5-key-russell-cohen
Russ works closely with D2M Innovation Ltd., a UK-based innovation agency that specialises in helping entrepreneurs and business create manufacturable products from initial ideas. Their recently launched website www.d2minnovation.co.uk explains how.