COMPANY OVERVIEW:
Sovereign opened its first office in Gibraltar in 1987 and has since grown into one of the world's largest independent corporate and trust service providers. Sovereign's core business is setting up and managing offshore companies, trusts and other structures to meet the specific personal or business needs of our clients. Typically, these needs would include tax planning, wealth protection, foreign property ownership, pension planning and facilitating cross-border business. We currently manage over 20,000 clients that include companies, entrepreneurs, private investors or high net worth individuals and their families – and have assets under administration in excess of US$10 billion.
JOB DESCRIPTION
Sovereign Trust (SA) Limited is part of The Sovereign Group and is looking to recruit a Business Development Manager to be based in our Cape Town office.
JOB SPECIFICATION:
The primary role of the Business Development Manager is to prospect for new clients by networking, or any other means of generating interest from potential clients. They must then plan persuasive approaches and pitches that will successfully demonstrate Sovereign's value to potential clients and win new business for the Company. The successful candidate will be a self-motivated, target-orientated salesperson. They must develop a rapport with new clients and provide support that will continually improve the relationship. They are also required to grow and retain existing accounts by presenting new solutions and services to clients. Business Development Managers work with senior level management, marketing, and administration staff. He/she may manage the activities of others responsible for developing business for the company. Strategic planning is a key part of this job description, since it is the business manager's responsibility to develop the pipeline of new business coming into the company. This requires a thorough knowledge of the market, the solutions/services the company can provide, and the company's competitors.
The applicant must be fluent and articulate in English and understanding of Afrikaans will be beneficial. The applicant must hold an undergraduate law, business, or accounting qualification and applicants with prior legal, sales, compliance and administration work experience will receive preference, especially if they have an existing network of clients and introducers of business, relevant to Sovereign Group.
The successful applicant will be based in our Cape Town office and will work closely with our overseas offices to deliver the best service to our clients and Intermediaries.
The successful applicant must have a driver's licence and his/her own transport.
ADDITIONAL DUTIES
You may be required to perform other ad-hoc tasks within the company that may be deemed necessary.
REPORTING TO
Chairman and Managing Director.
DUTIES 
Present Sovereign to potential clients through direct communication in face-to-face meetings, telephone calls and through online
Follow up on new business opportunities and setting up
Develop new business relationships, generate and negotiate new income for Sovereign to an agreed annual target, increasing year on
Identify and generate sales leads, pitch services to new clients and maintain a good working relationship with new
Communicate new product developments to prospective clients. Responsible for her/his own lead generation and appointment
Contribute to the development of marketing literature/writing content/providing management with
Actively and successfully manage the sales cycle process: lead generation, credentials pitch, asking questions, solutions pitch, negotiation, close, handover to the account management team.
Attending and contributing to weekly sales meetings and presenting your current sales process and business strategy to the core sales
Possess drive, motivation and acute attention to detail in ensuring all sales opportunities to Sovereign Corporate Services are captured and
She/he will have individual responsibility for new business, and will be expected to self-manage; however, they will part of a growing team of people with the same job Support is available from the Chairman and Managing Director for complex large pitches and strategies.
Create and be accountable for all client proposals and any further documentation, following Sovereign Corporate Services'
She/he will effectively interact with other departments including Finance, Compliance and administration teams when handing over new client files – ensuring they are correctly briefed in all aspects of the
OTHER SKILLS AND QUALIFICATIONS
Networking, persuasion, prospecting, public-speaking, research, writing, closing skills, motivation for sales, prospecting skills, sales planning, identification of customer needs and challenges, territory management, market knowledge, meeting sales goal, professionalism, dynamics CRM, and Microsoft Office.
PERSON SPECIFICATION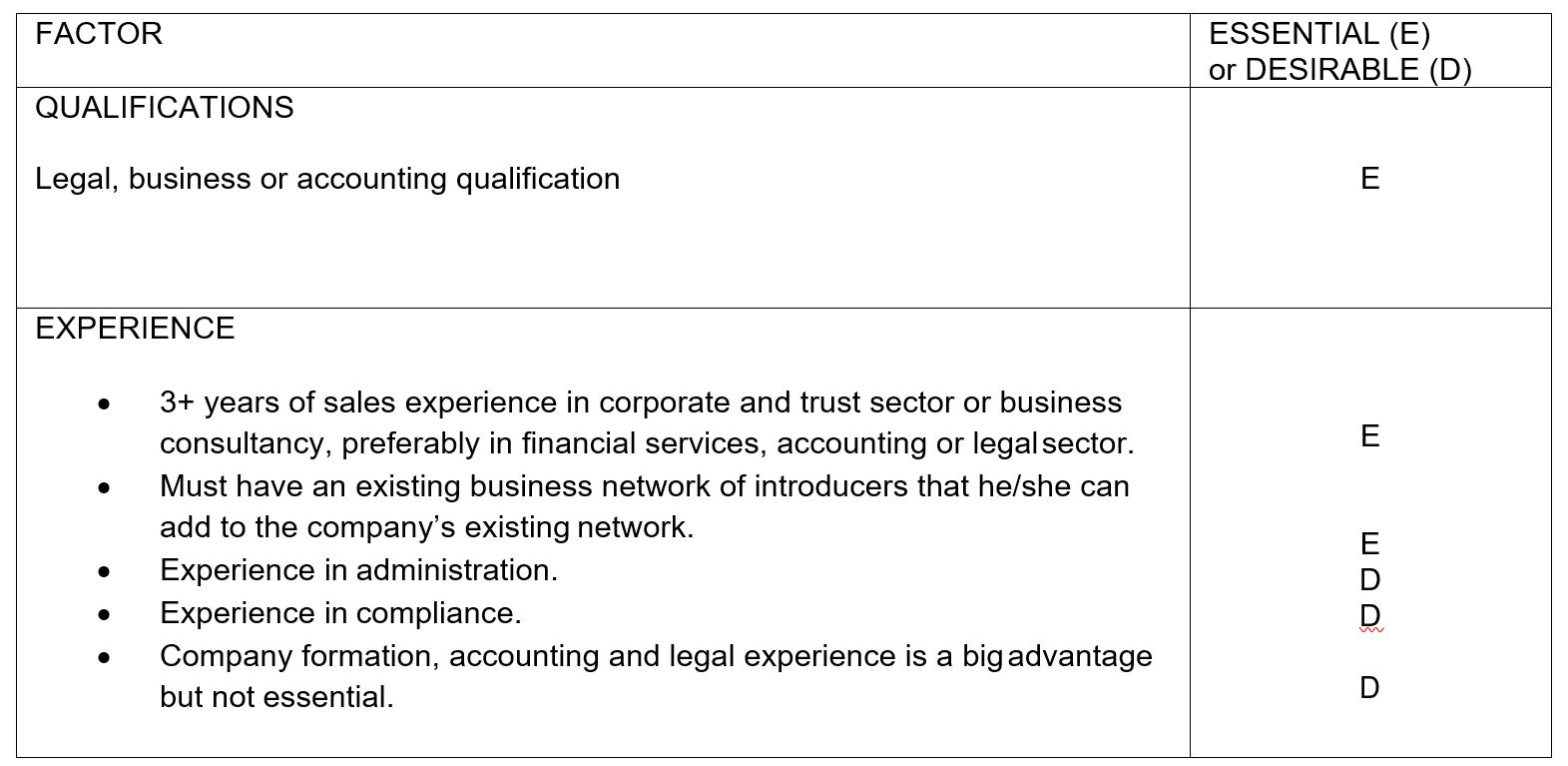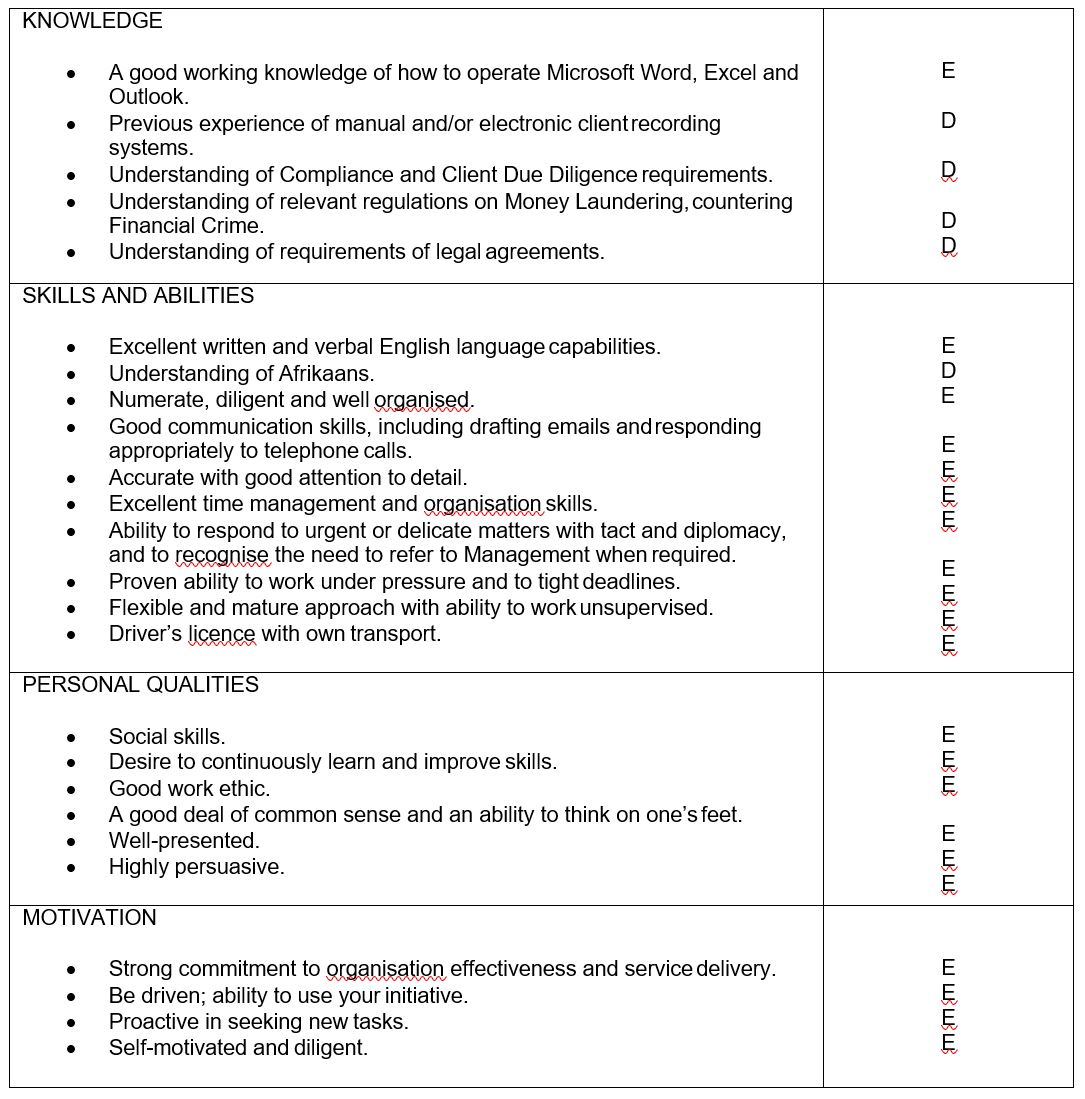 Interested applicants should initially apply by handwritten letter, clearly stating why they think they are suitable for this position. The letter must state current and expected salary and enclose colour desk photograph and full CV. The letter together with the other documents should be emailed to Michele Hill mhill@sovereigngroup.com.
CLOSING DATE:  09 May 2022.