Structuring Patent Royalties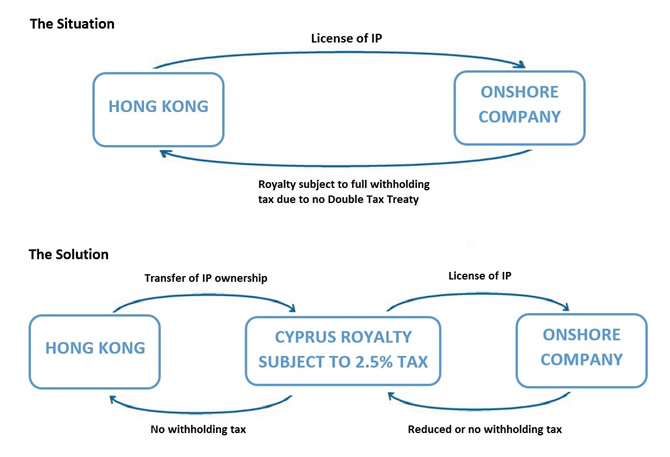 The Situation
A Hong Kong resident, Mr K, has a local company that has developed a software, that he wishes to sell throughout the world.
The Problem
If the Hong Kong company directly licenses the software internationally, most countries withhold tax on royalties payable at source on the gross amount of the payment. Hong Kong has few tax treaties so generally tax would have to be deducted by the licensee.
The Solution
The Honk Kong company of Mr K should set up a company in Cyprus. It contributes to the capital of the Cypriot company the IP or sells it for consideration at arms-length. Thus the Cyprus company will hold the whole beneficial interest in the software. Once licensed to third parties, royalty payments would be made to Cyprus eliminating the withholding tax for all EU companies (EU Directive 2003/49/EC) and reducing it to the relevant rate where there is a DTT with third countries ( the list consists of more than 55 countries with which Cyprus signed treaties)
The received royalties in Cyprus, after deduction of the current expenses, depreciations and interest will be tax at 2.5% effective tax rate ( 80% exemption for tax purposes). Subsequently the Cyprus company should distribute a dividend to the Hong Kong parent company. As there is no withholding tax on dividends payable to non-resident entities or individuals, the transfer will be tax free.
Notes
Due to the multiple GAAR ( General Anti Avoidance Rules), it should be certain by all means that the Cyprus company is resident in Cyprus and is also beneficiary of the royalties' income. The first condition is achievable by appointment of local directors that would manage the company's activity and the second condition would be satisfied by the initial unconditional transfer of the ownership of the IP to the Cyprus company. Sovereign Group has a significant experience structuring and managing IP companies worldwide and we would be happy to assist in formation of the structure for you and to also provide directors, secretary and office for your business.
All businesses have Intellectual Property (IP), whether it is their brand, logo, know-how, systems or products. The IP is often the most valuable assets of the business so it is a great importance to protect that asset by holding it in a separate company. If you have not registered yet your know-how, logo brand, software or other IP , our lawyers can help you with the registration and maintenance with WIPO ( World Intellectual Property Organisation), EPO ( European Patent Organisation), any National Patent Offices, ARIPO ( African Regional Intellectual Property Organisation), OAPI ( African Intellectual Property Organisation), etc.
Remember the general rule is "trademark it or lose it". Registering into the name of an offshore structure gives great protection and tremendous tax planning opportunities because that offshore entity can then license its own group of companies, enabling the group to extract pre-tax profits from high tax areas.