LOCATION

Western Europe
CAPITAL
Lisbon
TIME DIFFERENCE
UTC+1
TOTAL AREA
92,212 km2
AGE DEMOGRAPHICS
0-14: 16.1%, 15-64: 65.7%,
65+: 18.1%
LANGUAGES

Portugese 96.3%
Other 3.7%
RELIGIONS
Catholic: 81%, Other
Christian:3.3%, Other: 0.6%,
Unaffiliated: 15.1%.
GOVERNMENT TYPE
Constitutional republic
CURRENCY
Euro (EUR)
EXCHANGE RATE:
1 USD = 0.8 EUR (2014)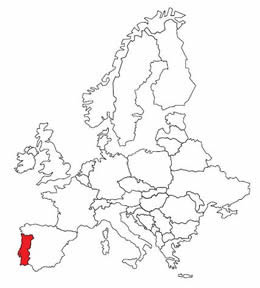 ---
10,427,301
Population Growth
– 0.5%
20,175.31 USD
GDP ( per capita)
GDP (purchasing power parity)
212.5 billion USD (2012)
---
The government introduced the Autorização de Residência para Actividades de Investimento
programme – better known as the "Golden Visa" – in October 2012 as a way to attract foreign investors
from non-EU countries by offering a fully valid residency permit in Portugal.
Category of Residence – "Golden Visa"
Under the Golden Visa programme, non-EU citizens simply need to carry out one of the investments
set out in the law to qualify to obtain a residency permit in Portugal. This residency permit will allow
the investor to enter and/or live in Portugal and to travel freely within the vast majority of European
countries (Schengen space). After five years, holders can apply for permanent residency, and EU
citizenship one year later.
Investment Requirements
The Golden Visa is a very straightforward and flexible programme, with simple and clear legal
requirements. The following types of investment qualify for the programme:
Acquisition of property in the amount of or greater than € 500,000 – this applies to the purchase of one or multiple properties; all property types qualify; includes the possibility of co-ownership; investors have freedom to use, rent or lease.
Transfer of funds above €1 million or more from abroad to a bank in Portugal – there is total
freedom to invest the funds including using the funds to invest in shares of companies.
Creation of at least 10 jobs in Portugal– employees must be registered for Social Security payments; there is no minimum investment value; no limitation on areas/activities; does not exclude the
possibility of grants/incentives/benefits.
Other Conditions
In general, all investors have to comply with the following requirements:
Pre-Golden Visa application
Deed of purchase or promissory contract must have been signed;
Properties must be acquired free from any charges or mortgages;
Residency application must be made within 90 days after entry in Portugal.
Post-Golden Visa application
Keep the investment for a minimum period of five years;
Funds for investment must come from abroad;
Entry in Portugal with a valid Schengen visa;
Absence of references in the Portuguese Immigration and the Schengen services;
Absence of conviction of relevant crimes;
Minimum stay in Portugal: seven days during the first year and 14 days during each subsequent
period of two years.
Rights and Benefits
Once issued, the Golden Visa will be valid for an initial period of one year and then will be renewed
for subsequent periods of two years.
Portuguese residence permits grant visa-free access to the Schengen Space, which includes the bulk of
the EU but not the UK. The Golden Visa will be valid for an initial period of one year, renewable for
two subsequent periods of two years.
An investor's family members may also apply and obtain a resident permit by applying for "family
reunion". The Golden Visa will be extended to family members, namely children, spouse and dependent
family members. The family members will also be eligible for Permanent Residency after five years and
Portuguese Citizenship after six years.
Under Portuguese Law any person that has held valid Portuguese temporary residency status for a
period of at least five years will be entitled to obtain Permanent Residency in Portugal, provided they
meet the following criteria:
Absence of conviction of any relevant crime during the five-year period;
Proof of income / financial independence;
Proof of accommodation in Portugal;
Basic knowledge of Portuguese.
The Portuguese legislation also sets out that any person who has been validly resident in Portugal for
at least six years – either under a temporary or permanent residency title – is eligible for obtaining
Portuguese Citizenship, provided they meet the following criteria:
Be at least 18 years old (or at least 16 but married or legally responsible);
Absence of conviction of any relevant crime;
Pass a simple Portuguese language test, which will serve to show sufficient knowledge of the
language.
Procedure and Timing
Applicants for the Golden Visa have to submit the following documentation:
Valid Passport and Schengen Visa;
Valid travel document and proof of health insurance;
Updated property documents showing ownership of property in Portugal;
Proof of means of income and proof of address;
Proof of absence of criminal record in home country;
Declaration from the Portuguese Immigration Authorities or Schengen;
Services indicating there are no impediments to the application;
Portuguese Social Security & Tax department certificate showing no debts;
Declaration from the investor confirming compliance with the investment requirements (by Affidavit).
All documents must be certified or authenticated copies translated to Portuguese at the Portuguese
embassy or consulate.
Investors can submit an application, either personally or via a legal representative appointed by him,
by registering in person or online at the Services of Foreigners and Borders (SEF).
The Golden Visa involves payment of the following fees to SEF, which are applicable both for the
investor and family members:
Processing fee (application and renewal) – € 514,80
Initial Golden Visa (valid for one year) – € 5,147.80
Renewal of Golden Visa (valid for two years) – € 2,573.90
When the application is submitted to SEF, it will take an estimated two weeks for the application to be
processed. The SEF will then contact the investor or the investor's legal representatives in Portugal and
set up an appointment with the investor (and family members) to collect signatures and fingerprints.
An investor (or any family member) will be refused the Golden Visa (or its renewal) on the following
grounds:
Failure to maintain the investment for the minimum period of five years;
Failure to comply with the minimum periods of stay in Portugal;
Conviction of a crime punishable with a prison sentence of more than one year;
Being subject to a removal measure from the country;
Public health issues.
For more information email info@SovereignGroup.com or click here to find your nearest office.
---
DISCLAIMER – © The Sovereign Group 2014
Whilst every effort has been made to ensure that the details contained herein are correct and up-to-date, this information does not constitute legal or other professional advice. We do not accept any responsibility, legal or otherwise, for any error or omission.