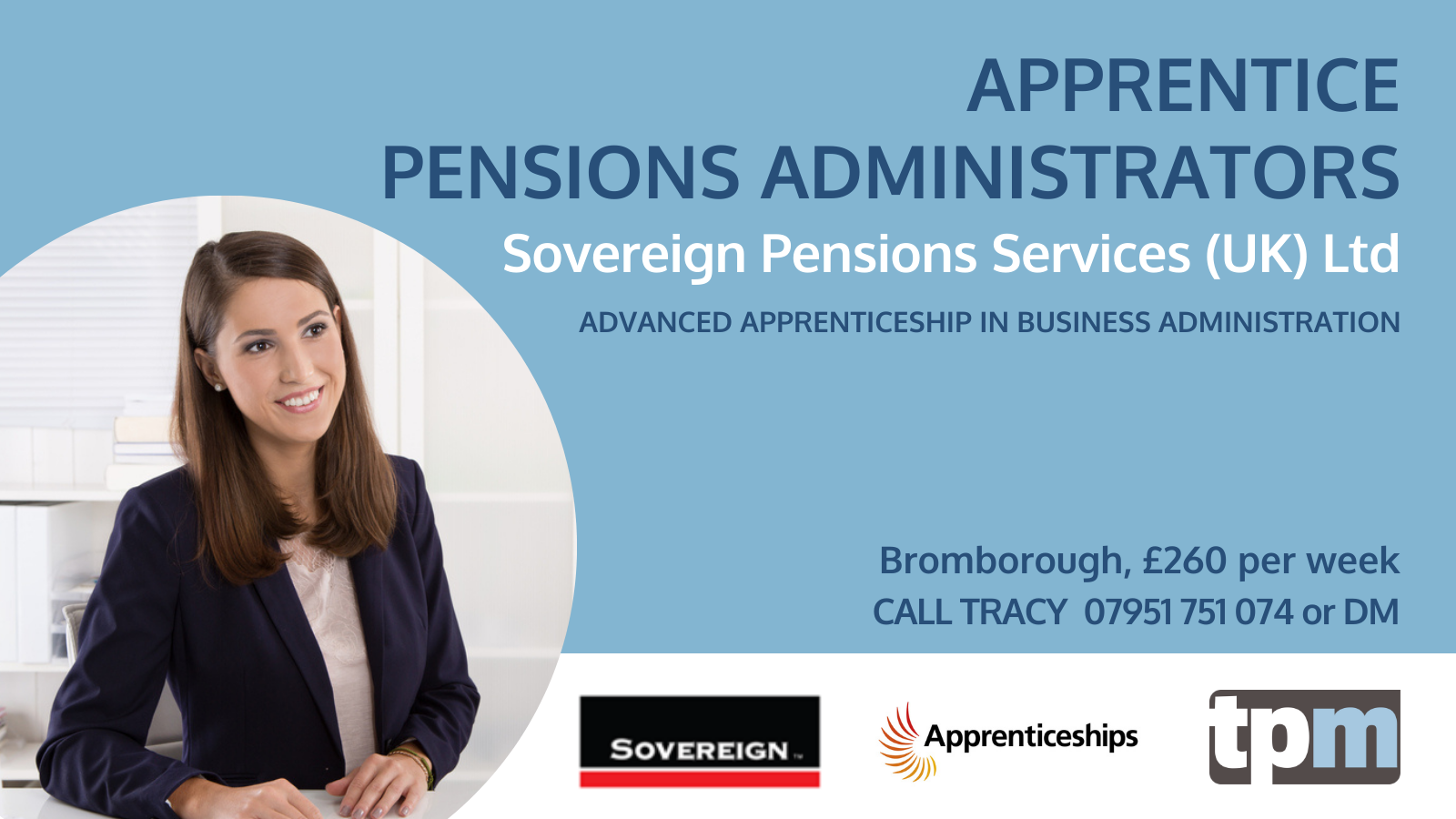 We are pleased to announce that tpm is recruiting for several exciting apprenticeship positions with leading financial services company Sovereign Pension Services in Bromborough. The posts will suit individuals who have completed their A-levels or have relevant work experience.
The successful candidates will launch fulfilling careers in customer service administration with this leading financial services company. Your role will be to support customers through managing their pension affairs. Sovereign will provide full on-the-job training.
Throughout their training, apprentices will be supported on a one-to-one basis by tpm trainers to develop the skills, knowledge and behaviours to carry out their job. tpm will also provide support to prepare for the interview with Sovereign.
The Opportunity
These positions provide candidates with an outstanding opportunity to:
Launch a fulfilling career in Pensions as part of a high performing growing business that is at the top of its sector;
Participate in a highly prized two-year programme including 12-18 months business; administration training at level 3, followed by the Investment Operations Certificate professional qualification;
Do a great job for customers and make their experience sorting out their pension affairs seamless and easy.
Duties
Once trained as a customer service executive, you will:
Deliver excellent customer service to all Financial Advisors and end Customers in line with service standards set.
Proactively manage customer cases, ensuring that all company protocols and processes and followed in line with good practice.
Manage and undertake processing and administration to manage cases using the systems provided.
To own your quality of processing and ensure correct service delivery every time.
Work in accordance with the mission, vision, and values of Sovereign Pension Services Ltd
Work within the regulatory framework by ensuring you adhere to processes set and follow the FCA's Treating Customers Fairly and Conduct rules.
Qualification acquired through apprenticeship
Level 3 Standard in Business Administration
Applicant: essential personal qualities
The qualities Sovereign are looking for in candidates are listed below. tpm will support you to acquire any of these skills which you need to develop
Good work ethic
Good at listening to instructions and carrying them out correctly
Confidence to carry out all duties once taught
Good at using initiative
Attention to detail
Communication Skills: phone, email and face-to-face
Excellent Listening Skills
Results-Driven
Able to Work as a Team
Ability to Work in Fast-Paced Environment
Ability to Work Under Pressure
Fast Learner
Analytical, Patient
Multi-tasking
Prioritising
High calibre candidates wanted, who are enthusiastic and passionate about starting a professional career in Pension customer service administration.
Applicant: essential qualifications
GCSE at A-C in Maths and English or equivalent
A-level education or equivalent
Progression prospects
Successful recruits who prove themselves in their job role and complete their apprenticeship may be able to continue their training on a higher-level apprenticeship.
Our expectations
Sovereign and tpm expect a minimum three-year commitment and active contribution to your development. In return, we will provide top quality training, on-the-job tuition and the opportunity to develop a fulfilling, long term career.
Support
Throughout your apprenticeship, you will have ongoing support from your personal tutor at tpm to help you achieve your qualifications. In addition, they will provide additional support for developing your workplace skills and overcoming any individual challenges that may arise.
Hours Monday-Friday 9 am to 5.00 pm
Salary £260/week
Holiday allowance
23 days plus Bank Holidays
Contact
Tracy on 0151 709 6000 or Apply here