LOCATION

Caribbean, islands between Caribbean Sea and the North Atlantic Ocean
CAPITAL
Roseau
TIME DIFFERENCE
GMT -4
TOTAL AREA
751 km2
AGE DEMOGRAPHICS
0-14: 22.9%, 15-64: 66.8%,
65+: 10.3%
LANGUAGES

English (official), French patois
RELIGIONS
Roman Catholic (61.4%), Protestant (26.6%), other (18%);
GOVERNMENT TYPE
Parliamentary democracy and Commonwealth realm
CURRENCY
East Caribbean Dollar (XCD), tied to USD
EXCHANGE RATE:
2.70 XCD = 1 USD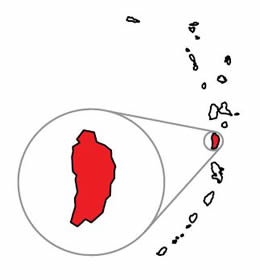 ---
73,126
Population Growth
0.216%
$14,400 USD
GDP ( per capita)
GDP (purchasing power parity)
$1.018 billion USD (2014)
---
Overview
Established in 1993, the Commonwealth of Dominica's Economic Citizenship Program is designed to allow qualified investors and their families to apply for Dominican citizenship via a non-refundable investment made to the Financial Services Unit of Dominica's Ministry of Finance.
The donation proceeds provided to the Ministry of Finance from the program are used to fund both public and private sector projects such as building schools and renovating hospitals, as well as funding tourism and information technology projects.
The Economic Citizenship Program of Dominica is based on Section 101 of the Constitution and Sections 8 and 20 (1) of the Citizenship Act.
Officially, the Commonwealth of Dominica is an island nation in the Lesser Antilles region of the Caribbean Sea with a population of 73,126 and area of 751 km2. An English speaking country, Dominica was a British colony until its independence in 1978. Often referred to as the Nature Island, tourism and agriculture are large contributions to the country's economy.
Qualifications
To qualify under the Economic Citizenship Program for Dominica, applicants need to be of outstanding character with:.
no criminal record;
excellent health;
basic knowledge of English;
make a direct non-refundable investment with the government of Dominica.
Program Benefits
The Economic Citizenship Program of Dominica offers investors a number of benefits, such as:
no physical residency requirements;
inclusion of dependent children of up to 25 years old;
no minimum level of education required;
no management experience required;
enjoy visa free travel to around 70 countries including United Kingdom, Hong Kong, Malaysia,
Singapore and Turkey;
no taxes for non-residents.
Dominica recognizes dual citizenship, therefore investors can still benefit from their current
citizenship status.
For more information about investing in Dominica, please contact us at info@SovereignGroup.com
Investment Options
The investment options available for obtaining citizenship are as follows:
Single Applicant
A single applicant will be required to make an investment of US$100,000.

Family Application I (Applicant + Spouse)
An investment of US$175,000 qualifies the applicant and his or her spouse for citizenship.

Family Application II (Applicant + Spouse + 2 children < 18)
An investment of US$200,000 qualifies the applicant, his or her spouse and two children under 18 years for citizenship.

Family Application III (Applicant + Spouse + 3 children < 18)
An investment of US$350,000 qualifies the applicant, his or her spouse and three children under 18
years for citizenship. An investment of US$50,000 is required for each additional child under 25 years.
All investments above are non-refundable.
Application Fees
The advisory fees associated with the program range between US$35-55,000. The fees are based on the number of dependents, country of origin, residence and other retained services, as well as they cover service and legal fees related to the citizenship and passport application submission. The advisory fees are non-refundable and are payable in two equal installments at Step 1 and at Step 5.
Additional fees will also apply:
Application Fee US$1,000
Processing Fee / person US$200
Naturalization Fee / person US$550
Stamp fee / person US$15
Passport fee / person US$40
Applicants and dependents above 16 years are also liable to pay due diligence security and background verification fees, which may vary depending on the profile, nationality and country of residence(s) of the applicants.
Application fees are subject to change, therefore always refer to the website www.invest-dominica.com for the most up-to-date information.
Interviews
Applicants must attend a compulsory interview. Interviews are usually held in Dominica, which requires the applicant to travel. In some circumstances an interview in an alternative country can be arranged, which will be at the expense of the applicant.
Procedures and Timeline
The application process summarized below is based on the required process that should be followed by all
applicants for the Economic Citizenship Program in Dominica. The procedure follows 9 basic steps, which
are dependent on the successful completion of the previous step.
STEP 1
File preparation. Advisory, government and due diligence fees are due at this stage.
Issuance of pre-approval letter from our immigration agent.

STEP 2
Citizenship application submission.

STEP 3
Comfort Letter is issued by the Dominican Authorities.

STEP 4
Applicant transfers the Investment.

STEP 5
Interview appointment and attendance by applicant.

STEP 6
Interview results are provided by the Dominican Authorities.

STEP 7
Upon approval, applicant and family must take the Oath of Allegiance.

STEP 8
Certificate of Naturalization is issued.

STEP 9
Application and reception of Passports.
The above timeline is an estimate based on our experience with previous clients and is provided for information purposes only. Any changes that may occur, which may or may not affect an applicant's processing, will not be the responsibility of Sovereign. Governments can experience large volumes of applications, local authorities can modify required documents and/or processing delays, are some of the factors that may affect timings. Processing times will vary depending on where the application has been filed.
---
DISCLAIMER – © The Sovereign Group 2014
Whilst every effort has been made to ensure that the details contained herein are correct and up-to-date, this information does not constitute legal or other professional advice. We do not accept any responsibility, legal or otherwise, for any error or omission.