LOCATION

Province in east-central Canada
CAPITAL
Quebec city
TIME DIFFERENCE
GMT -5, -4
TOTAL AREA
1,542,056 km2
AGE DEMOGRAPHICS
0-14: 15.7%, 15-64: 68.5%,
65+: 15.9%
LANGUAGES
French, English
RELIGIONS
Roman Catholic: 83.6%,
Protestant: 4.71%, Christian:
2.21%, Muslim: 1.52%,
other: 2.16%, unspecified: 5.8%
GOVERNMENT TYPE
Parliamentary democracy,
a federation, and
a constitutional monarchy
CURRENCY
Canadian (CAD)
EXCHANGE RATE:
1.0346 CAD = 1 USD
(2010);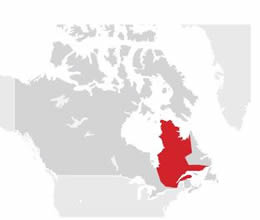 ---
7,982,702
Population Growth
0.7%
$39,057 USD
GDP ( per capita)
GDP (purchasing power parity)
$303,747 million USD (2010)
---
Overview
Created by the provincial government in 1986, Quebec's Immigrant Investor Program allows business people and their families to enter the province of Quebec as permanent residents on an unconditional basis. In return, funding made available through the program helps provide subsidies in support of small and medium businesses in Quebec.
This Immigrant Investor Program is offered through our PWM Capital, a Quebec government authorized financial intermediary.
Qualifications
As of December 1st, 2010, Ministry of Immigration and Cultural Communities of Quebec (MICC)
adopted new financial qualification requirements. To qualify under Quebec's Immigrant Investor
Program, an applicant must:
Have a minimum net worth of CAD$1,600,000 acquired through lawful economic activities;
Have management experience (duties related to the planning, management and control of financial resources and of human or material resources under their authority), for at least two years in the five years preceding the application for a Quebec Selection Certificate (CSQ), in a legal business (farming,commercial, industrial or professional), or for an international agency, a government or one of its departments or agencies.;
Agree to invest CAD$800,000 over a five year period through an authorized financial intermediary duly recognized by the Immigration Authorities of Quebec (MICC) and Investissement Quebec (IQ). This investment is fully guaranteed by the Government of Quebec.;
Program Benefits
Quebec is one of the most popular destinations for investor immigrants wishing to relocate. Some of
the key benefits are:
Fast and efficient processing;
Quebec's rich cultural and religious diversity creates a unique place to raise families;
Excellent education system with preferential fees for permanent residents;
Unspoiled environment with strict environmental controls;
World class public and private healthcare systems.
One of the most valued passports (Canadian) for international travel.
For comprehensive information on living in Quebec, please contact us on info@SovereignGroup.com.
Benefits for citizens:
Unrestricted right to live, work and study in Europe;
Right to own land in a EU country.
Investment Options
There are two different ways to make the required investment in order to qualify for the Quebec
Immigrant Investor Program. Applicants can either deposit the full investment (Full Investment), or
finance the required amount (Financed Investment) from a chartered Canadian bank.
Full Investment
The investor deposits the full amount of CAD $800,000. No further payment is required. At the end of
the five year period, CAD $800,000 is returned to the investor with no accrued interest.
Financed Investment
The investor pays a reduced amount*, which is used to finance a CAD $800,000 closed five-year term
loan from a chartered bank. This loan is initiated and repaid at no further cost and without additional
guarantees from the applicant.
No further payment is required by the investor. However, the amount paid is not returned to the
investor at the end of the five year period.
This option is particularly attractive for investors seeking to retain maximum capital for investment in
their on-going business operations.
* This amount may change marginally, if prime lending rates in the national banking system vary in response to changes in the Bank of Canada's key interest rate.
Procedures and Timelines
The application process summarized below is based on the requirements that need to be fulfilled by an applicant. Our immigration agent, together with PWM Capital, have outlined the below procedures by combining current timelines of local government institutions as well as the actual process our clients have experienced so far.
The procedure can be broken down into seven basic steps. Some of them require the client's
involvement, while others are performed by our immigration agent/PWM Capital on the grounds of
the power of attorney(s) given by the main applicant. All of the steps are dependent on the successful
completion of the previous step.
PHASE I: QUEBEC SELECTION CERTIFICATE
STEP 1
File preparation and submission. Our immigration agent/PWM Capital will verify the source of funds and issue a Broker's Declaration. Application fees are to be paid at this stage. Quebec Immigration Authorities will issue a file number.

STEP 2
Quebec Immigration Authorities will send a request for file update, in case of a scheduled interview.

STEP 3
Interview Stage: Applicant will either be requested for an interview or it will be waived.

STEP 4
Following a file's acceptance, the applicant will be issued a Letter of Intent to issue the Quebec Selection Certificate (CSQ).

STEP 5
Applicant transfers the investment as per the selected Investment Option. Upon receipt, Quebec immigration authorities will issue the
CSQ.
PHASE 2: FEDERAL APPROVAL
STEP 6
Once the CSQ has been received, the applicant can lodge their application to the Federal Immigration Authorities. During this process, the applicant will be subjected to medical, security and background checks.

STEP 7
Upon completion of the above verifications the Canadian Permanent Residence Visa is issued. Right of Permanent Residence Fees are to be paid at this stage. The applicant and family are welcome to arrive in Canada as Permanent Residents.
The above timeline is an estimate based on our experience with previous clients and is provided for information purposes only. Any changes that may occur, which may or may not affect an applicant's processing, will not be the responsibility of Sovereign or of our immigration agent. Governments can experience large volumes of applications, local authorities can modify required documents and/or processing delays and these are some of the factors that may affect timings. Processing times will vary depending on where the application has been filed.
Citizenship Requirements
Investors who have lived in Canada for the past three out of four years (1095 days), have adequate
knowledge of French and/ or English, have no criminal record and have acquired knowledge of the
rights and responsibilities of citizenship, as well as having an understanding of Canada and Quebec's
history, values, institutions and symbols are eligible to apply for Citizenship.
Application Fees
Application Fees are required to be paid directly to the Canadian and Quebec governments by the
applicant. Application fees are subject to change, therefore always refer to www.pwmcapital.com for
the most up-to-date information.
For more information email info@SovereignGroup.com or click here to find your nearest office.
---
DISCLAIMER – © The Sovereign Group 2014
Whilst every effort has been made to ensure that the details contained herein are correct and up-to-date, this information does not constitute legal or other professional advice. We do not accept any responsibility, legal or otherwise, for any error or omission.