LOCATION

Caribbean, islands in the Caribbean Sea
CAPITAL
Basseterre
TIME DIFFERENCE
GMT -4
TOTAL AREA
261 km2
AGE DEMOGRAPHICS
0-14: 22.8%, 15-64:
69.6%, 65+: 7.6%
LANGUAGES
English
RELIGIONS
Anglican, other
Protestant, Roman Catholic
GOVERNMENT TYPE
democracy parliamentary and
Commonwealth realm
CURRENCY
East Caribbean Dollar (XCD),
tied to USD
EXCHANGE RATE:
XCD 2.70 = 1 USD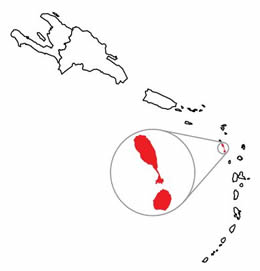 ---
50,723
Population Growth
0.806%
$15,800 USD
GDP ( per capita)
GDP (purchasing power parity)
$886,2 million USD (2011)
---
Overview
St. Kitts & Nevis (St. Christopher & Nevis) Citizenship-by-Investment Program was established in 1984 under the regulations of the 1984 Citizenship Act, Part II, Section 3 (5) making it the longest established Citizenship-by-Investment Program in the world.
St. Kitts & Nevis is located in the northern section of the Eastern Caribbean Sea approximately 2,000 km Southeast from Miami.
In 1983 independence was gained from Britain and a twin island federation was formed; Nevis with an area of 93.2 km² and St. Kitts with 168.4 km². The Federation is a British Commonwealth nation with the Head of State being Queen Elizabeth II and a well functioning democracy based on Britain's parliamentary system.
The St. Kitts & Nevis Citizenship-by- Investment Program facilitates you and your family's ease of travel throughout the world to over 130 countries visa-free.
Holding St. Kitts & Nevis citizenship also gives expansion on your business opportunities without being taxed on worldwide income.
Qualifications
To qualify, applicants need to be of outstanding character with:
no criminal record;
excellent health;
high personal net worth;
make an investment in a government-approved real estate development, or monetary contribution to the Sugar Industry Diversification Foundation.
The remaining criteria are:
Being able to maintain and accommodate yourself and any dependents without taking employment
(other than self employment or business);
You must make St Kitts and Nevis your main home. You do not need to spend all your time in St Kitts and Nevis but you should spend at least 50% (6 out of 12 months) there in order to maintain your visa status.
Program Benefits
As one of the oldest of its kind in the world, the St.Kitts & Nevis Citizenship by Investment Program
provides the following prime benefits:
Fast processing within 4 months with inclusion of dependent children below 25 years of age;
St Kitts and Nevis' rich cultural and religious diversity creates a unique place to raise families;
Inclusion of dependent parents or grandparents above 65 years;
No physical residency requirements;
No requirement to travel to St.Kitts & Nevis during the application process;
No interview, education or management experience required;
Obtain visa-free travel to more than 130 countries including Schengen Zone in Europe, Canada, UK, Hong Kong, Singapore, and others;
No tax on worldwide income;
St. Kitts & Nevis recognizes dual citizenship, therefore you can still benefit from your current citizenship.
For comprehensive information on investing in St. Kitts & Nevis, please contact one of our Certified
Partners or visit our website.
Benefits for citizens:
Unrestricted right to live, work and study in Europe;
Right to own land in a EU country.
Investment Options
1. Sugar Industry Diversification Foundation (SIDF) Contribution
High net worth individuals may choose to make a monetary contribution to the SIDF organization via
one of the prescribed contribution levels:
US$ 250,000 – Single Applicant
US$ 300,000 – Family with up to 3 dependents (spouse+2 children
US$ 350,000 – Family with up to 5 dependents (spouse+4 children
US$ 450,000 – Family with up to 7 dependents (spouse+6 children
US$ 50,000 – Additional per person above 7 dependents
US$ 50,000 – Dependents above 18 years
US$ 7,500 – Due diligence for Main Applicant
No tax on worldwide income;
US$ 4,000 – Due diligence for each dependent above 16 years
2. Real Estate Investment
The property purchase must be minimum US$ 400,000 in government approved shares of a real estate development. The investment must be maintained for a minimum of 5 years. Investors may also be required to pay associated taxes and fees.
Park Hyatt St. Kitts
An investment of US$ 400,000 in Park Hyatt St. Kitts, the ultra-luxury hotel by Range Developments, will
allow the applicant and their family to apply for citizenship of St. Kitts & Nevis and will be entitled to:
Investment in shares of a globally recognized brand
Expected annual Rate of Return on Investment between 2% and 5%*
Complimentary enrolment in the Hyatt Gold Passport Diamond Level, the highest tier of Hyatt's guest loyalty program.
Kittitian Hill
The Redeemable Preferred Share Offer (RPSO), is Kittitian Hill Resort Development's exclusive product with our immigration agent and is commonly referred to as the Buy Back Option. The offer allows applicants to purchase a share within a specially appointed Cottage Suites within the development for US$ 400,000.
The applicant is renouncing any income or dividends from the company, in exchange for the
guaranteed option to re-sell the property back to the developer after 5 years for the same purchase
price. Investors will be entitled to:
Guaranteed capital protection*
7 nights usage per year
Complimentary enrolment in the Preferred Residences Program, a membership and exchange
program for luxury shares ownership resorts giving owners the opportunity to exchange their usage
with luxury resorts worldwide.
Full Investment
The investor deposits the full amount of CAD $800,000. No further payment is required. At the end of
the five year period, CAD $800,000 is returned to the investor with no accrued interest.
Financed Investment
The investor pays a reduced amount*, which is used to finance a CAD $800,000 closed five-year term
loan from a chartered bank. This loan is initiated and repaid at no further cost and without additional
guarantees from the applicant.
No further payment is required by the investor. However, the amount paid is not returned to the
investor at the end of the five year period.
This option is particularly attractive for investors seeking to retain maximum capital for investment in
their on-going business operations.
* This amount may change marginally, if prime lending rates in the national banking system vary in response to changes in the Bank of Canada's key interest rate.
Procedures and Timelines
The application process summarized below is based on the required process that should be followed by all applicants for the Citizenship-by-Investment Program in St. Kitts & Nevis. The procedure follows 6 basic steps, which are dependent on the successful completion of the previous step.
STEP 1
File preparation. Issuance of pre-approval letter from our immigration agent. Advisory, government and due diligence fees are due at this stage.

STEP 2
Citizenship file submission.

STEP 3
Issuance of "Approved in Principle" letter by the Government's Citizenship-by-Investment Unit.

STEP 4
Investment is made in selected option.

STEP 5
Naturalization certificate is issued.

STEP 6
Submission of passport application. Issuance of passport.
The above timeline is an estimate based on our experience with previous clients and is provided for information purposes only. Any changes that may occur, which may or may not affect an applicant's processing, will not be the responsibility of our immigration agent or Sovereign. Governments can experience large volumes of applications, local authorities can modify required documents and/or processing delays, are some of the factors that may affect timings. Processing times will vary depending on where the application has been filed.
Application Fees
The advisory fees associated with the program range between US$ 35-55,000. The fees are based on the number of dependents, country of origin, residence and other retained services, as well as they cover service and legal fees related to the citizenship and passport application submission. The advisory fees are non-refundable and are payable in two instalments of 50% at Step 1 and at Step 5.
Applicants will need to pay the additional government and due diligence fees associated with their chosen investment as per the number of accompanying family members and their individual ages.
Real Estate Government Fees
US$50,000 – Main Applicant
US$25,000 – Spouse
US$25,000 – Dependent below 18 years
US$50,000 – Dependent above 18 years
US$7,500 – Due diligence of Main Applicant
US$4,000 – Due diligence for each dependent above 16 years
For more information email info@SovereignGroup.com or click here to find your nearest office.
---
DISCLAIMER – © The Sovereign Group 2014
Whilst every effort has been made to ensure that the details contained herein are correct and up-to-date, this information does not constitute legal or other professional advice. We do not accept any responsibility, legal or otherwise, for any error or omission.