Back to the Middle East for our latest Sovereign Story. Since the early days, there have been several examples across the network where extended family members form part of the Group. None more familial though than the story of Staney, Sunil and Freddy D'Souza. They are brothers working in the Dubai office. But not for long. We spoke to them to learn why this is our last chance to speak to the brothers all together as employees.
---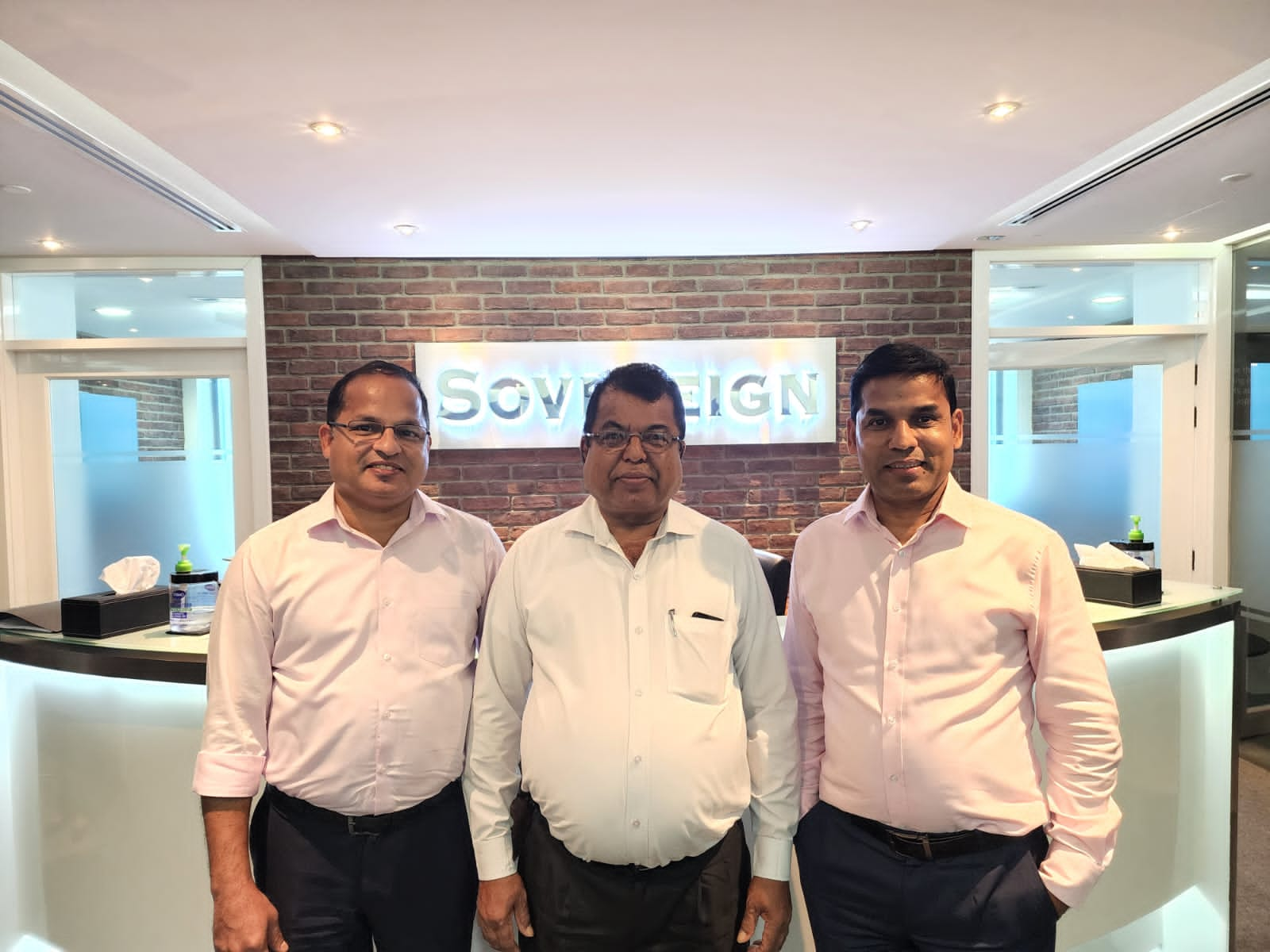 The simple reason is that the oldest brother, Freddy, has decided to retire leaving Staney and Sunil to continue the family tradition. But how did the story begin?  Sovereign has employed several sets of relatives before (including four sisters in Gibraltar), but the D'Souzas are the only three brothers in the Group. Hailing originally from Mangalore in India (now Mangaluru) they are not triplets but share a great deal in common as we were to discover.
Staney is the longest served of the three brothers having joined the Group in 2005. A qualified accountant who spent time in Mumbai, he joined Sovereign's Dubai office when it comprised just five people. In those days he recalls, he was "the accounts department" responsible for the office's accounting and invoicing. Building his role as Accounts Manager, Staney has used new technology to build systems for the office. Since 2014 he has been responsible for in-house accounts work and client payroll together with management accounting for the Bahrain office.
He remembers particularly the office moves and has been involved in all four to the current impressive suite of offices in a commanding position at No 1 Sheikh Zayed Road.
Staney has been married to Usha for more than 20 years. Usha is not only a fellow member of Sovereign staff but was the subject of a Sovereign Story herself in March this year.
Accountant Sunil was next to join in 2007 and today he is the office's Financial Reporting Manager. His role includes preparing management accounts for the Dubai and Cyprus offices. A recent added responsibility saw him undertake the same for Sovereign Fiduciary Services, acquired in Gibraltar last year. He also manages a number of client payroll files.
Sunil is married to Asha, who came with him to Dubai, and the couple have an 11 year old son.
Making up the trio, Freddy was the last to join in 2010. Unlike his brothers who moved to Dubai to join Sovereign, he had been living in the emirate since 1997 working for a number of other companies before becoming the third D'Souza brother on the payroll.
Although "last one in" and due to his imminent retirement "first one out" he was able to guide both younger brothers as they arrived in the UAE to take up their new positions. At Sovereign, Freddy is the office driver and when not delivering document packages he is regularly seen collecting visitors from the Airport and taking them around Dubai and beyond. For many first time visitors a ride into town with Freddy is their first impression of the country – so it's an important role and one he enjoys enormously. Many people don't realise that the UAE comprises no less than seven separate states – or emirates – each with their own idiosyncrasies and rules. Based in Dubai, Freddy often has to drive to Abu Dhabi, Sharjah, Fujairah and Ras Al Khaimah whilst trips further afield to Ajman and Umm Al Quwain are less common.
Married to Juliet the couple have two children. Also a keen cricket fan and player (although for a different team than his brothers) he is a sea swimmer benefitting from Dubai's glorious beaches.
And away from work? All three brothers are mad keen on cricket and each plays as much as possible. Of course as dedicated family men there isn't a lot of spare time but Freddy is looking forward to having more of it from September – if his wife lets him! Staney is "quite good" at cricket and also enjoys swimming. Sunil too is very keen and again plays regularly. Although many miles from their childhood home in Mangalore, all three brothers now live with their families in the same area of Dubai.
Thanks to the D'Souza clan for their time. We'd like to wish Freddy a long and happy retirement. We suspect that, given such a strong family connection to Sovereign, he won't be going very far.
Best wishes to you all.