7 Questions with Chloe Pullan, Senior Insurance Broker, Sovereign Insurance Services Limited (SIS)
---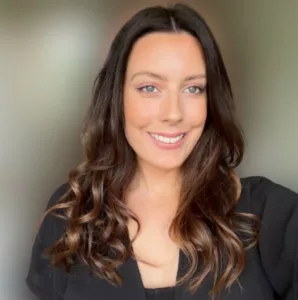 Sovereign Insurance Services Limited (SIS) were pleased to welcome Chloe Pullan to the team last year as a Senior Insurance Broker, handling SIS's international private medical insurance clients. Chloe has previously worked for a market leading insurer in the UK specialising in Private Medical Insurance (PMI). Here we catch up with her about what she does and why she loves insurance.
1. What does your role entail?
Working with individuals, families and companies that require private medical insurance. I provide professional advice (mainly at policy inception or renewal).
I also offer ongoing support to my clients throughout the policy term; they may have questions if they are travelling to another country, if they need to claim or if they want to add or remove members to a group plan – I am on hand to answer all their questions and process all the administration for them.
Having worked in client-facing roles since I was 17 years old – be it hospitality, retail, real estate etc, the client has always been the centre of my work and they always come first. The best part of these roles has always been speaking to the clients.
You must have a sensitive edge when it comes to selling private health insurance as often the thing that drives the customer to seek it in the first place is a first-hand account of a family member, friend or colleague having a bad experience or a health scare.
2. What is the role /purpose of an insurance broker?
First and foremost – people use insurance brokers to make their lives easier.
Insurance isn't always the simplest thing to understand, and it can be time-consuming to approach multiple insurers for different quotes to make sure you are being offered a competitive price- you will often complete form after form, and it can then be quite confusing to compare these different quotes and understand which the most appropriate choice would be.
A broker takes on all this leg work for you and provides reassurance that you are not only getting value for money, but that you are adequately covered if the worst was to happen.
We save our clients time AND money; we are trained advisors and negotiators, and we often have special pricing deals with insurers which a client wouldn't necessarily have access to if they insured directly.
The magic touch that good brokers have is being able to explain the jargon in terms the clients can understand.
3. Why work in insurance?
I love working in insurance because every query is different – your insurance needs are personal to you, so it means there is a lot of variety in my work from one day to the next. Essentially, finding insurance solutions that match your clients' requirements is like solving a puzzle.
4. What changes are you seeing in the world of insurance? / how is the insurance landscape changing?
The main thing we want to make sure our clients understand at the moment is the impact of inflation, particularly on property/buildings insurance as the cost of materials has skyrocketed, now more than ever people need to ensure they are adequately insured as the impact of underinsurance can be devastating.
5. What common misconceptions do you encounter?
That insurers don't pay out or make it really difficult if you ever need to claim; insurers are not the bad guys – they are there to help you. At SIS, we assist our clients with their claims and personally manage the process for them; we try to make the process as painless as possible by explaining each step along the way.
That you can start claiming on health insurance immediately and that it covers everything. This is sadly not always the case. Ideally, people should take out health insurance whilst they are in good health as you can then protect against future risks. The underwriting process in PMI often excludes pre-existing conditions, this means that you can't claim for things where you have previously experienced any pain or symptoms or sought medication/tests/doctor's appointments etc. With our corporate clients we favour arranging 'Medical History Disregarded' schemes, this offers the clients the best underwriting as they are covered for pre-existing conditions and there are no application forms to complete so it's much quicker and easier to add staff members as/when they join the company. There are often generic exclusions on most health policies such as sleep disorders, weight loss surgery, cosmetic surgery, drug/alcohol misuse and self-inflicted injuries.
6. Why is insurance important?
This question would be answered differently from one person to the next, for example: I am super risk-averse, which means insurance is highly important to me. I want to make sure I am fully protected financially in case of a serious event, as any money I have saved up I don't want to be spending on things like replacing a broken phone or an MRI scan!
For this reason, I have the following;
Life Insurance: so that my partner could afford to pay the mortgage on our apartment if I died.
Health Insurance: to make sure I can be seen ASAP if I am concerned about a medical issue and make sure I don't have too much time away from work.
Home Insurance: as I don't have enough of a cash surplus to fully refurbish my entire apartment and replace all of my belongings if there was a fire or flood.
And of course, Car Insurance is a legal requirement!
If you don't have insurance, you are essentially gambling.
I always say ''insurance is something I hope you have, but I hope you never need''
Or ''I hope you have insurance, but I hope you don't ever need to use it!''
7. How much do you think employees value health insurance?
It is a great employee benefit- people feel looked after by their employers and in turn this makes them feel valued.
If you experienced a change in your health and were told you had to wait on a list for months before you could have a test to rule something out or obtain a diagnosis, this could cause additional stress and anxiety. If you then wanted to go privately without insurance you could be facing a bill of £100s or even in the £1000s depending on what tests you needed and how many appointments it took to receive a diagnosis – a lot of people in the general workforce simply do not have the disposable income to do this – especially as we are in the midst of a cost-of-living crisis.
It really is one less thing to have to think about if you know the insurance is there – ready and waiting to be used and is all paid for by your employer.
Most insurers now also offer digital services in their packages, so for example if you need to see a GP you can now video call with a private doctor for free from the comfort of your own home, or from your office so you don't need to take any time off work which is a huge plus.