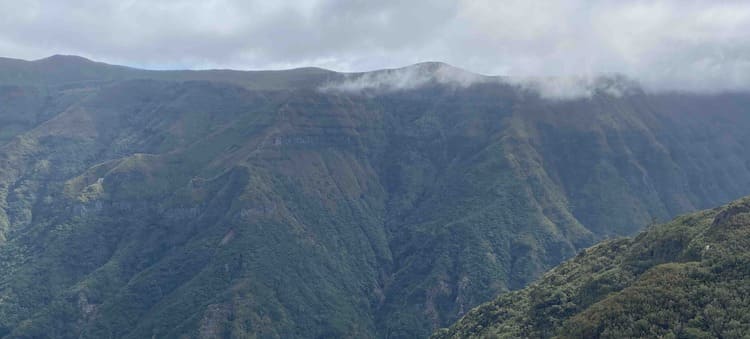 This week's despatch comes from a place with more tunnels, more hiking trails and more goals per head of population than anywhere else on earth. They offer street tobogganing but have no snow, boast some of the highest cliffs in the world, and use trees to make wine.
Do you know where it is yet?
It's never too hot and never too cold in this subtropical floral paradise; they serve fish with bananas and drink sugar cane liquor, but are not in the Caribbean. And with one of the most challenging airports to land, pebble and black sand beaches and a penchant for eating limpets…they have a whole category of wine named after them.
Yes, I took my dear Ana to Madeira for a surprise fiftieth birthday trip…and what a fantastic island it turns out to be. It was an inexpensive 90 minute flight from Lisbon to this small volcanic rock in the Atlantic. A fabulous coastline-hugging highway from the airport to the capital cuts through tunnels in the cliffs and over bridges above deep, lush ravines.
Small houses and narrow-terraced banana plantations balance on the steep hillsides as waterfalls emerge from the cloud-covered mountains above.
Madeira is the biggest of four islands in this autonomous region of Portugal. Porto Santo is the only other one that's inhabited and both Desertas and Selvagens (Wild) give you the general idea. The capital Funchal is crammed onto the flatter and more sheltered southern side of the island, with its suburbs spreading up the mountain into the mist. The city has a sculptured colonial feel to it very different from mainland Portugal, with beautifully manicured gardens of exotic sub-tropical plants and trees and neat calçada (cobbled) squares, narrow streets and wide avenues lined with flowering jacarandas. And the São Martinho area is home to luxury hotels like Reid's Palace and the occasional Michelin starred restaurant.
When I saw signs for "CR7" I thought it was a highway, but of course it was a hotel and museum devoted to the living legend and local Madeirense boy Cristiano Ronaldo who wears a seven on his shirt. With a population of around 250,000 people his 800+ goals must to give Madeira more per head than anywhere else on earth. In terms of tunnels, there are more than 150, which is a lot per person for a place that's no more than 50km across and 20km wide. The longest stretch for thousands of metres and they cost billions of euros, courtesy of EU membership, but they've opened up the island and allow tourists to explore. Madeira has gone from one of the poorest to one of the richest parts of Portugal in a generation, even if inequality means many people still live very simply.
Although the tunnels led the wonderfully steep and winding roads they replaced to be neglected, there are hundreds of kilometres of 'lavada' walking trails that follow old irrigation channels and a few 'teleférico' cable cars. The biggest is in Funchal, ferrying passengers up to the botanical gardens on the mountain. And Carriero do monte is the best way back: wicker toboggans on wooden sleds guided down the steep and polished streets by two drivers dressed in white and topped with boater hats.
I'd recommend hiring a car to explore the central highlands where Pico Ruivo reaches 1,861m from the sea, and to the northern and western edges of the island. Try the 'espade' (sword or scabbard fish with banana), grilled 'lapas' (limpets) and local wine. Like Port, Madeira is fortified with a brandy and ranges from aperitif dry to dessert sweet depending on the grape, and as we discovered courtesy of a visit to Blandy's Wine Lodge it differs from port with a great back story.
If you want to read about that and the difference between Malvasia, Buol, Verdelho and Sercial grapes – please read my other blog The Big Portuguese Wine Adventure. Madeira's grapes are mostly grown on high frames to protect them from fungus caused by humidity, and given the natural resources (Madeira is Portuguese for wood) it's not surprising they used huge tree trunks in the winemaking process to crush the grapes.
And finally the booze? 'Poncha' is sugar cane spirit with honey, sugar and orange or lemon juice…a bit sweet but a suitably exotic memory to bring home from this Portuguese subtropical island.
Alastair Leithead writes a weekly blog Off-Grid and Ignorant in Portugal