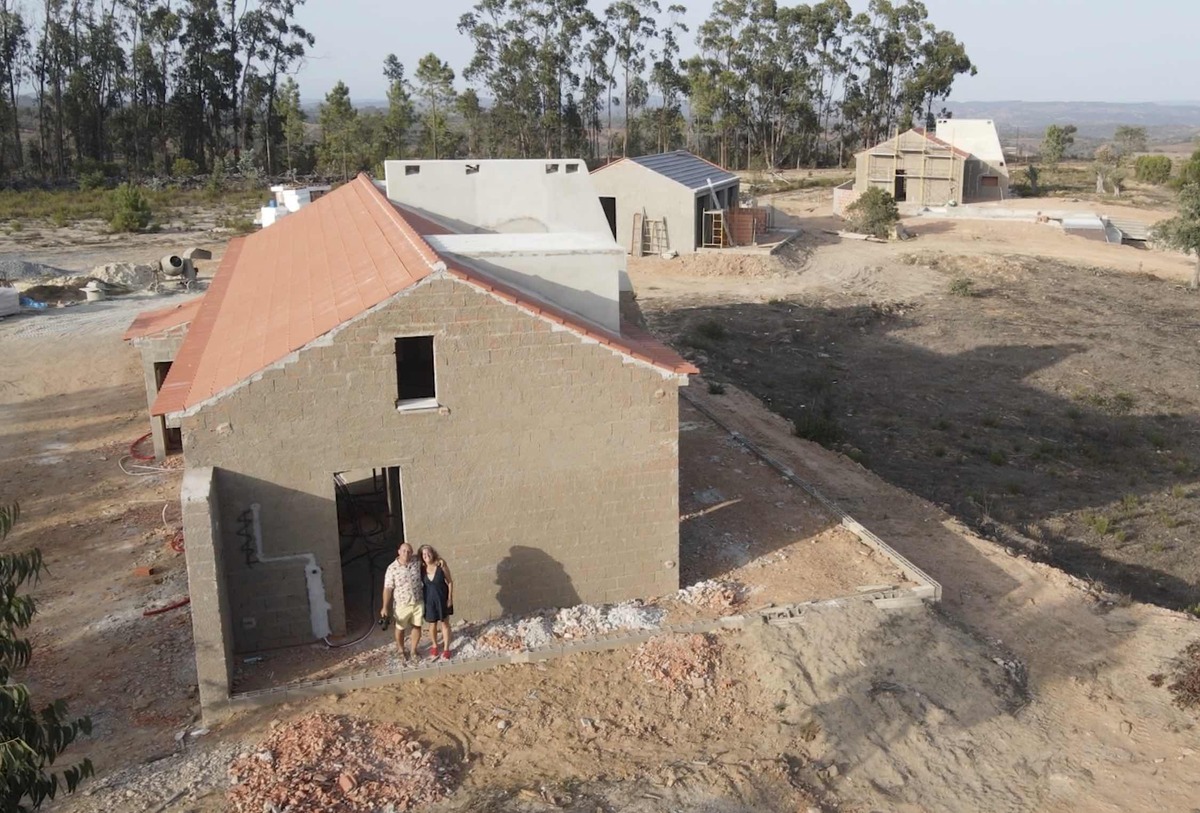 We didn't start out with the idea of giving up our jobs, moving to an off-grid property in remote rural Portugal and building an eco-tourism lodge, but then we discovered a place with an amazing view and everything changed.
Despite delays and bureaucracy, COVID and inflation, we now somehow have three buildings with roofs on them, an almost-finished infinity pool and a plan to open in the Spring. There's still a long way to go, but we've come far enough to start believing we can actually do it.
Building anything anywhere is always fraught with problems and we've had our ups and downs from applying to the tourism authority for a loan, having our designs approved by the local council and then finding someone to do all the work. During one memorable trip up to Porto, my wife Ana spent the drive up telling me how it was never going to happen while I argued we could do it… only for our roles to completely reverse on the journey home and for me to insist we should just give up.
We had no final funding approval, permission or builder contracted to do the work, but one day a load of steel reinforcing rods turned up and we realised it might be happening anyway.
Slowly the pieces all started to fit together and for a year we've working on two luxury buildings for accommodation and one with a restaurant and bar for events and wine tastings.
If you'd like to check out where we're at, please have a look at the video published on our weekly version of this blog, Off-Grid and Ignorant in Portugal (and do sign up to follow our progress even more closely).
It's not just about the buildings of course – off-grid means no connections to mains water, waste treatment or electricity. Sustainability is something we all strive for, but while it's easy enough for a small family to get by with a few panels and drinking filtered rainwater, providing essential services for up to 20 guests is another matter altogether.
Water has been our biggest concern since we arrived as our borehole supply contains mineral salts, and a two year obsession has turned me into the water-bore at the party.
But it lets me draw colourful schematic maps of how the system might work. This isn't the first mapa of how Vale das Estrelas will water its guests and its grapevines and it certainly won't be the last, but it's almost there.
The solar power system was a big investment, but can now run a small town…as soon as we connect all 1.4km of cables. All these extra costs are going to bump up our budget as we turn towards landscaping and interior decorating.
Ana's the interiors minister, searching for rare finds which often involve us dropping everything and driving miles to secure a good deal on an antique. It was an eight hour round trip to meet a second-hand talha salesman.
Talhas are the giant clay amphorae used to make wine since Roman times which I have written about before, and the surge of interest in natural winemaking using these pots has led to some hefty inflation in the informal talha market.
The price had doubled by the time we got there, but had halved again by the time he delivered the four talhas to us…days later, once he realised we wouldn't be paying estrangeiro (foreigner) prices.
The other night Ana stumbled across a printers' table – a large cabinet with many drawers which stored the different sizes and fonts of typographic lead letters. It took me back to my days as a print journalist at the Newcastle Evening Chronicle where I started out.
The intention is to use the many-partitioned drawers vertically – as picture frames of tiny compartments to fill with ornaments or Mondrian-style colours. And the most recent trip was to Sines port to find something to store the décor through the winter.
A large shipping container will not only give us somewhere to put the furniture and interior decorations Ana's avidly collecting, but will double as a technical room for the water-filter system. And so the off-grid adventure goes on…
Alastair Leithead is a former BBC Foreign Correspondent and freelance journalist now living in a remote rural part of Alentejo. He writes the blogs "Off-Grid and Ignorant in Portugal" and "The Big Portuguese Wine Adventure."