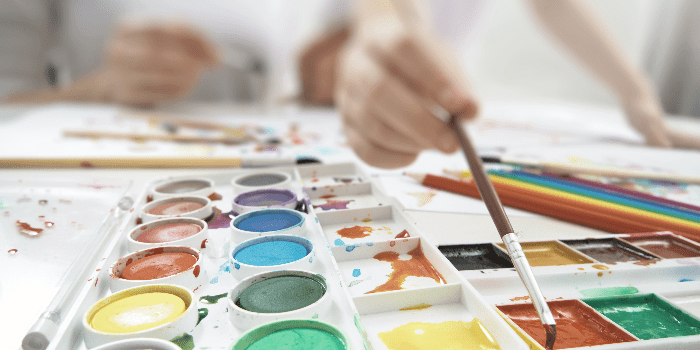 Make It Better (MIB), the Sovereign Art Foundation's flagship expressive arts programme, uses the therapeutic benefits of art to support children from low-income backgrounds and with special educational needs (SEN) in Hong Kong.
Established in 2013, MIB is offered in local schools and community centres and led by SAF's registered arts therapists. The programme provides children an opportunity to freely express themselves in a safe space using different forms of art.
After an extended period of online teaching during the Covid pandemic, our MIB therapists observed that the children responded strongly to the resumed in-person sessions this term.  They were more exploratory and expressive and enjoyed being able to experiment directly with unconventional art materials inside the classroom alongside their peers.
Over the last term, the MIB team focused on four key learning modules in the workshops: encouraging emotional expression, improving social interaction, cultivating creativity and increasing resilience, and promoting stress-management and relaxation.
To encourage the participating children to acquire, access and apply these life skills in ways that are intuitive, immediate and largely outside their conscious awareness, the team devised a number of activities, which included:
Long River – The children were invited to interact with their peers by painting and illustrating a a 'lively river' together on a long piece of paper. The process helped them to be more respectful and aware of others, promoting a harmonious environment and increasing social engagement within the group.
Little Buddy – To help develop empathy and social skills through role playing, the children were encouraged to create their own fictional characters. As well as enhancing their confidence and acting as a point of refuge when they encountered stressful situations, these 'little buddies' also helped the children to develop their emotional expression, regulate behaviour and build connections.
Dazzling Lamp – With the MIB programme nearing its end, our therapists prepared the children to cope with the stress of this change by inviting each of them to add a lamp to a group artwork to create a 'sun'. This sun-making activity was significant to each participant because it symbolises their contribution of hope and energy to their life path after completing the programme.
Infinity Box – This activity was performed at the end of term to encourage the children to reflect on their feelings towards MIB after 25 sessions. The box represents a boundless environment in which they can express themselves and explore unlimited possibilities. The children then add their own elements to the box signifying their feelings towards the programme.
As one caregiver said of her grandson with ADHD: "The vast variety of activities in the programme provided him opportunities to learn more about himself and become more focused during the art making process. His daily behaviour has improved after participating in MIB".
A principal at one of our partner schools also said: "The programme directly benefitted our students from deprived backgrounds and provided them with the opportunity to understand that art is not only for leisure, but also an effective tool for self-exploration and developing better social skills in a non-judgemental environment."
As schools resume in Hong Kong this month, we look forward to sharing how MIB's new groups of students will learn and grow in the coming year.