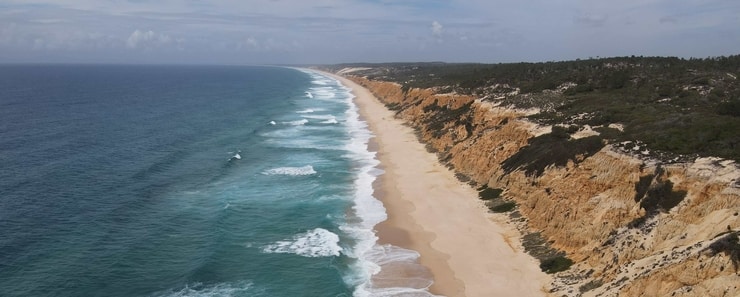 The last time I spoke to George Clooney, he told me he liked my golden bow tie. I was the BBC's Hollywood correspondent on the red carpet for the Golden Globes and I never thought one day we would be neighbours. Now he's following in the footsteps of the French designers Philippe Starck and Christian Louboutin (and us of course!) by moving to Alentejo.
South of Lisbon, on Portugal's wild Atlantic coast, is a narrow strip of land between the beach and a bumpy and battered B-road that is fast becoming a highway for A-list celebrities: both Hollywood royalty and royal royalty. Now we hear the Queen's granddaughter Princess Eugenie is also moving into the neighbourhood with her family. Her husband Jack Brooksbank is the new marketing supremo behind CostaTerra Golf & Ocean Club – a 320 hectare luxury golf and beach club resort which is being built by Mike Meldman's Discovery Land Company.
And that's the George Clooney connection. The US property developer founded the Casamigos tequila brand with the actor and Rande Gerber in 2013 before selling it to Diageo for a billion dollars in 2017. The exclusive CostaTerra resort is currently a dusty building site of earthmovers and a half-finished golf course and lake, buzzing with the feel of a big construction company on a deadline.
The price for a plot starts around £3m. The villas will be isolated and private, hidden in the woods and on the sandy clifftops overlooking one of the most beautifully deserted beaches in Europe.
"It's not about parties on the beach or over-the-top glam, but a discreet glamour," Teresa Barros of the Xpose Consulting marketing company told me. People come here for simplicity, she said, which is "the ultimate luxury." "There's a movement back to basics where people want to connect to each other and to the earth like you see in fashion or in food… and all to a different rhythm." It's certainly a different rhythm from London or even Lisbon.
Nearby Comporta was a hidden secret for years among the glitterati of the design world – so much so that a "Comporta Style" of design developed around minimal interiors, wood and natural materials. The isolated and discreet 'herdades' and 'monte's have become a playground for architects – a "magic elsewhere" Philippe Starck told Surface magazine.
"Comporta will continue to evolve as a stage for architectural experimentation on a global scale," he told them. But now in the three street town opposite wonderfully green rice paddy fields, sandwiched between the ocean and an estuary has been discovered, and the advertising boards talk of little but real estate.
It's been a while since the local grocery store 'Mercearia Gomes' started selling fine Champagnes, caviar and one of Alentejo's most expensive and exclusive red wines for only €395 a bottle. Five years ago, Carlos Gomes also opened a restaurant and now his name adorns a new bakery and an 'Espumantaria' – a champagne bar which sells books and cut flowers alongside oysters and caviar.
A lot has changed since he took over running the family shop his parents ran in this forgotten little corner of Portugal. Now he must be discreet about the famous names who have visited his emporia. "I don't remember who they all were," he repeated with a grin, "but yes, of course, famous people."
Regulations are strict, building heights are limited, and rules are followed to the letter. This is not the Algarve – it's low-rise and discreet, touristy but classy. There's also a high-end building boom in nearby Carvalhal with its boutiques, restaurants and Bohemia Café. The Sublime Beach Club bar and restaurant is a fantastic spot with a great view and a DJ to give it the Café del Mar feel – a window into the Sublime rooms and villas.
Newer resorts are under construction designed around luxury – but without such isolated exclusivity. And that's perhaps why the A-listers are heading into their gated communities and the artists and designers are heading south, opening galleries and creating homes and boutique hotels in Melides, a traditional Portuguese village where the local restaurant still has a board outside boasting about their sardinhas.
Here at Vale das Estrelas we are even further south in a much more undiscovered, authentic, isolated (and cheaper) stretch of Alentejo coast. But it's nice to know we've moved to a part of the world popular with the rich and famous and if they wanted to check out our "discreet, off-grid glam" we wouldn't turn them away. The gold bow tie is still in the cupboard, George, even if it's worn a lot less than the work-gloves.
And as for the Champagne? Why would we, when Portuguese Espumantes are so good?
Teresa Barros' top tips for a visit to the area: