Indian artist Parul Gupta was declared the Grand Prize winner of the 2023 Sovereign Asian Art Prize, the 19th edition of Asia's longest established and most prestigious award for contemporary art, at the Gala Dinner and Charity Auction at the Four Seasons Hotel Hong Kong on 19 May.
Gupta was awarded the US$30,000 prize for her work, Notes on Movement – Layer #115 (2022), an ink on paper composition in which she copies of the same intricate drawing were layered to give the suggestion of movement.
The piece was chosen by the panel of judges from artworks by the 30 shortlisted artists – from 16 countries across the Asia Pacific region – which were presented at the Finalists' Exhibition at 9/F, H Queen's, 80 Queen's Road Central, Hong Kong from 10 to 18 May.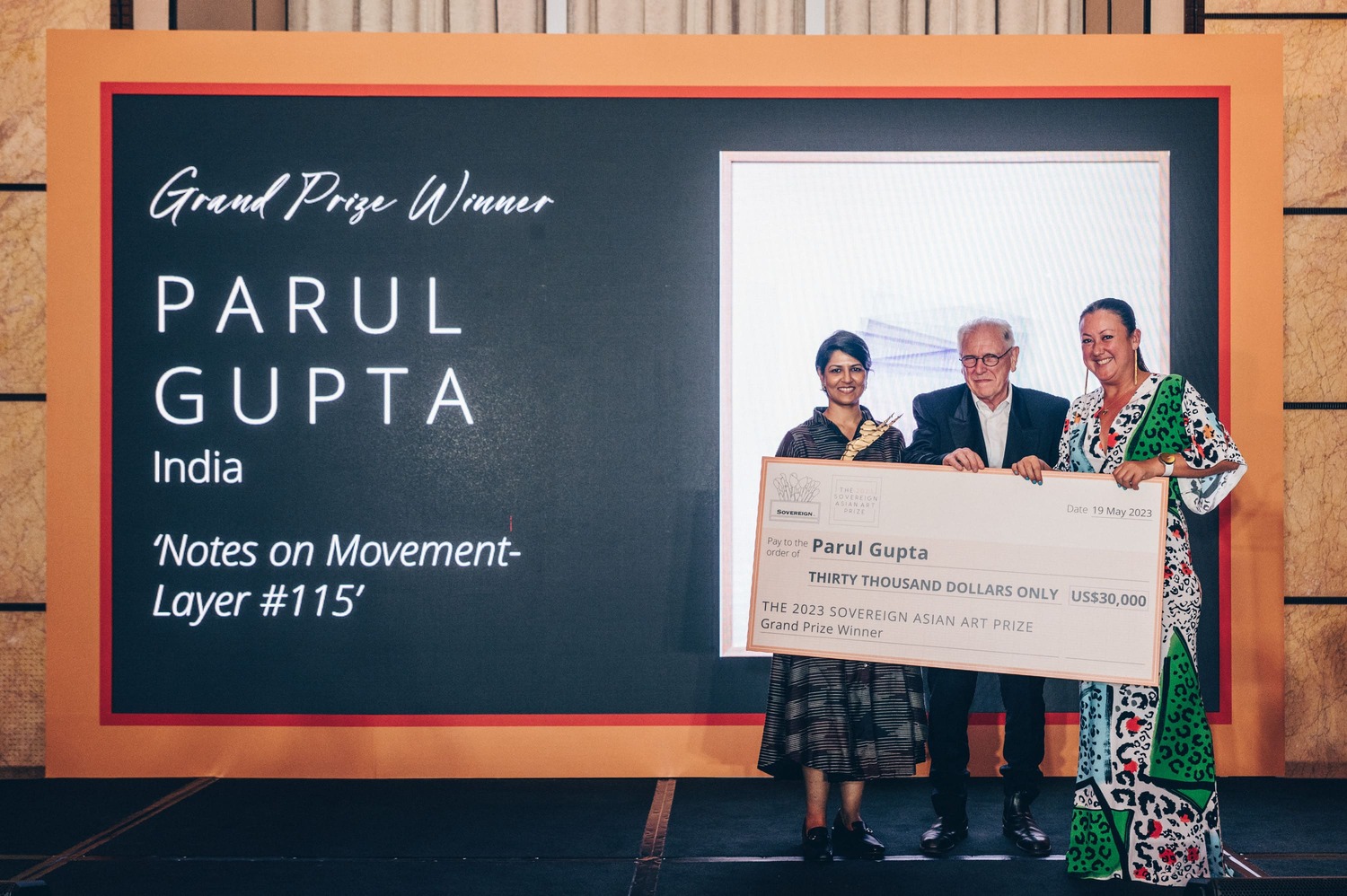 Following her win, Gupta said: "I do not come from an art background, and I started practising art much later in life. I took many detours before I realised that it's only through art that I can live a life I desire for myself – a life that is truly independent. This word 'independent' encompasses everything which defies the structural norms of society, and rightly so."
The same evening, Thai artist Alisa Chunchue was awarded the US$5,000 Vogue Hong Kong Women's Art Prize for her work Wound (2022), a meditative drawing that referenced surgical stitches and suture patterns, while Indian artist Cop Shiva received the US$1,000 Public Vote Prize for his work No Longer a Memory (2022), a playful dedication to the artists' relationship with his mother.
The awards were presented live by Sovereign Art Foundation (SAF) Co-Founder Tiffany Pinkstone, curator and Chair of the Judges' Panel David Elliott and Publisher of Vogue Hong Kong Desiree Au.
All the shortlisted artworks, except for the Grand Prize winner, were then auctioned at the Gala Dinner, with the proceeds split evenly between the artists and the SAF's charity programmes. The evening raised nearly HK$2 million through artwork sales and pledges.
These funds will support SAF's Make It Better (MIB) programme, which has been providing expressive arts workshops for children living in Hong Kong's most disadvantaged communities since 2013.
The weekly workshops, which are run by a professional team of registered art therapists, currently support the social, emotional and behavioural challenges of over 150 children with special educational needs, including autism, ADHD and other specific learning difficulties.
The MIB programme has also recently been expanded to provide education, training and support to the children's caregivers and social workers. Hundreds of visitors to the Finalists' Exhibition were invited to engage in educational programming developed by SAF's art therapy team.