In a world of closed economic borders with restrictions on travel and the movement of assets, internationally mobile individuals, their families and businesses have developed a genuine need for liberating, flexible solutions. Acquiring a second residency or citizenship through investment provides families with a broad spectrum of lifestyle, business, investment and tax benefits and has become an increasingly popular choice worldwide.
The term Residency & Citizenship by Investment (RCBI) refers to government-approved programmes that provide foreign nationals with the ability to gain residency or citizenship in a new country in return for making capital investments and/or capital contributions to that country.
It is generally agreed that the industry began in 1984 when the dual-island Caribbean nation of St Kitts & Nevis launched its citizenship by investment programme. The industry as we know it today began to expand rapidly with the introduction of the first European citizenship programme – the Cyprus Investment Programme – in 2011.
Many governments have taken notice of the increasing demand from Affluent, High Net Worth (HNW) and Ultra-High Net Worth (UHNW) individuals who wish to create more options and opportunities for themselves and their families. They have also appreciated that establishing and implementing RCBI programmes will enable them to:
Secure much-needed foreign investment;
Attract people with proven business success and valuable networks;
Enrich their economies and citizens.
As a result, we have seen a significant increase in the number of European governments that are now offering either Residency by Investment (RBI) or Citizenship by Investment (CBI) programmes, or both.
Where is the demand for RCBI programmes?
The market for those most interested in investing in European RCBI programmes are significant in size and are expected to continue growing. The table below provides the numbers applicable to each market segment by region, together with their expected percentage increase by the end of 2023:

1. Affluent – Defined as Individuals with assets valued at between $250,000 to $1 million (Source: BCG Global Wealth Report)
2. HNW – High Net Worth Individuals with assets valued at between $1 to $30 million (Source: Knight Frank Attitudes Survey)
3. UHNW – Ultra-High Net Worth Individuals with assets valued at $30 million or more (Source: Knight Frank Attitudes Survey)
Why do individuals invest in RCBI programmes?
There is a common misconception that individuals invest in RCBI programmes with the sole intention of enabling their families to emigrate. Whilst this is a requirement of certain programmes – the UK and US, for example – in most instances this is not the case.
The majority of those who invest in government-authorised RCBI programmes do so in order to benefit from the flexibility and freedom they provide and to receive additional benefits that are not currently available to them. In other words, they are used to complement and enhance their existing arrangements.
Additional benefits derived from investing in a European RCBI programme include but are not limited to: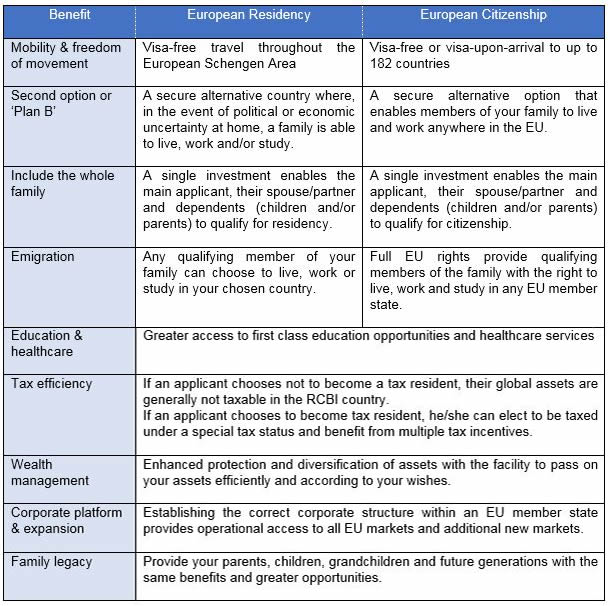 Residency & Citizenship Programmes
Sovereign provides advice and support to investors relating to RCBI programmes in the following countries:

* Applicants may qualify for citizenship after 5 years
The Sovereign Group has a local office in each of the countries in which we offer RCBI programmes. Each office has formulated agreements with a variety of local investment partners and, working together, we can assist in identifying a suitable investment. Our local team will also work closely with you through each step of the process – qualification, application, processing and receipt of residency or citizenship through your preferred programme.
In addition, the following Sovereign Group products and services will enable you and your family to develop and implement a comprehensive, flexible and tax efficient strategy:
Residency and Citizenship by Investment
Tax Residency
Trusts and foundations
Estate and succession planning
International retirement plans
Wealth management
Corporate structures and banking
International life and medical insurances
If you have any questions, or would you like to discuss how your family could benefit from RBI or CBI programmes, please contact Sovereign for further information or to discuss your personal requirements. Our consultants are available to answer any questions that you have and will assist in determining which RBI or CBI programmes would be most beneficial in respect of your circumstances and needs.