Saudi Arabia seeks to deepen ties with Hong Kong as bridge to mainland China
---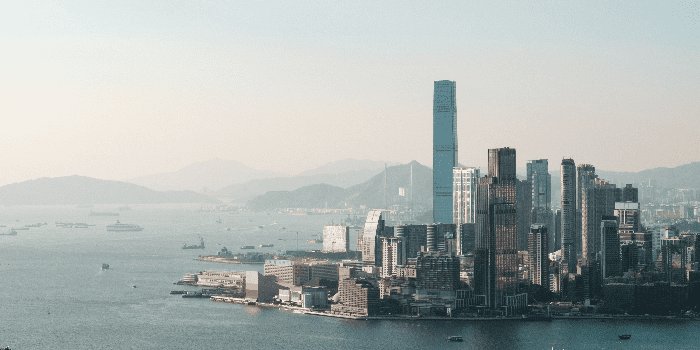 Saudi Arabia plans to deepen its collaboration with Hong Kong, using the city as a bridge to mainland China to spur transformation under its Vision 2030 economic plan, said Saudi Minister of Communications and Information Technology Abdullah Al-Swaha.
Al-Swaha, who was visiting Hong Kong as the starting point of a tour of China, met with Hong Kong Chief Executive John Lee ahead of the 'One Gateway Shared Vision – Hong Kong x Saudi Arabia' event at Hong Kong Science & Technology Park (HKSTP) in Shatin on 2 July.
"Hong Kong and Saudi Arabia are going through very promising transformations, where both economies are financial hubs in their own regions," said Al-Swaha. "We have an opportunity to build an innovation bridge, to leapfrog into the future with an innovation-based economy."
Key areas of collaboration are to include fintech, technological entrepreneurship and strategies to attract the funding of venture capitalists. Saudi Arabia is also keen to strike partnerships on health sciences and biotechnology, the environment, cloud computing, generative artificial intelligence (AI) and smart cities, said Al-Swaha.
The "world class" transformation of information and communications technology (ICT) on the mainland and Hong Kong "is a success story" that Saudi Arabia is keen to "replicate and explore partnerships with", he said. "That is what we're trying to achieve during this visit."
ICT development requires a robust digital infrastructure, which Saudi Arabia has been keen to source from Chinese companies. Saudi Arabia is "pro-partnership and pro-openness", and willing to do business with "any partner that can comply with our security and regulatory requirements", he said.
"The current term of the Hong Kong government has put a priority on revitalising our relations with Saudi Arabia – and the Middle East in general," said Lee. The city's Information and Technology (I&T) Development Blueprint, unveiled six months ago, outlines Hong Kong's commitment to new industrialisation and its ambition as a global I&T centre.
Part of that blueprint includes consolidating Hong Kong's role as a bridge connecting mainland China with the world, in what Lee has termed a "value-added super connector." Hong Kong will host a Belt and Road Summit in September, with a dedicated Middle East session for the first time, Lee said.
The private sector is seeking to tap the opportunities offered by warming China-Middle East ties, following the December 2022 visit to the Saudi capital Riyadh by Chinese President Xi Jinping, and Hong Kong Chief Executive Lee's visit in February.
The Saudi Arabia-China Entrepreneurs Association, a private-sector organisation launched during the LEAP tech conference (LEAP 2023) organised by the Saudi Ministry of Communications & Information Technology (MCIT) in February, is to establish its head office in Hong Kong.
Eleven Hong Kong companies, including eight located at the HKSTP, have signed agreements with eWTP Capital Arabia, a Riyadh-based venture capital firm that specialises in investing in emerging digital economies, to explore opportunities to enter the Saudi market and join the association.
These firms include aviation training and education tech solutions provider Aerosim (HK), robotics company FJ Dynamics International, AI digital solutions provider FreeD Group and the AI drugs research and developer XtalPi.
Biotechnology, where Hong Kong is carving out a niche as the world's largest funding hub for pharmaceutical start-ups after the US Nasdaq stock exchange, is another area of potential collaboration.
"There are similar challenges in healthcare, where we look to partners to tackle such as Type II diabetes, chronic diseases, the prevention and prediction of cancer," Al-Swaha said.
The minister, who is responsible for building Saudi Arabia's digital workforce and talent infrastructure, said China was a "key partner" in "skilling and upskilling" the Kingdom's 340,000-strong technology workforce, helping to double the tech-savvy population in five years.
Cooperation in technology and digital talent is "a cornerstone" for helping China and Saudi Arabia achieve their respective development strategies, said Al-Swaha, who added that Saudi Arabia was looking to "harmonise" the Kingdom's Vision 2030 with China's Belt and Road Initiative.
Hong Kong now boasts some 4,000 start-ups and over 10 unicorns in the I&T sector. It ranked first in Asia, and second globally, among the top emerging start-up ecosystems in the Global Startup Ecosystem Report 2023.
The Hong Kong government is also seeking to boost technology collaboration between Hong Kong and cities in the Greater Bay Area (GBA), the cluster-city development integrating Hong Kong, Macao and nine cities in Guangdong province. The Greater Bay Area unites some 86 million consumers and a GDP of about USD1.7 trillion.