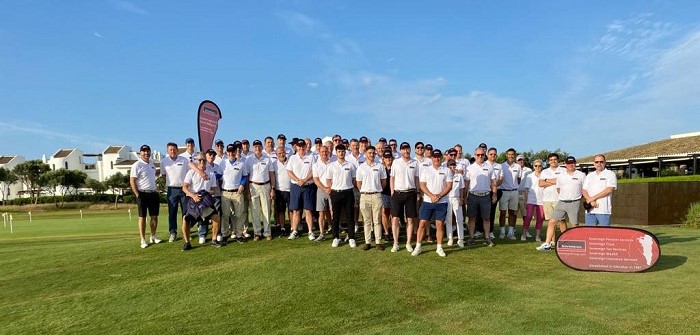 Our Gibraltar office was pleased to host the inaugural Sovereign Golf Day in May at the La Hacienda Alcaidesa Links Golf Resort, which overlooks the Rock. Having not been able to host in-person events for some time, we relished the chance to spend quality time with clients and contacts that were able to attend. We are grateful they could take time out of their day to join us.
Nerves were set on edge the day before when the costa was treated to a thunderstorm of biblical proportions after weeks of endless sunshine. More rain was forecast for the following day but luckily the wind blew the rain clouds away and the day was perfect for golf: blue skies and sunshine, but not too hot.
After breakfast on the terrace of the Resort's Sal Verde Restaurante and having been kitted out with their Sovereign-branded polo shirts and goody bags, the players obliged with a group photo before getting onto their buggies and taking up position for the shotgun start. The format was 'Texas Scramble', with each member of the four-person team required to 'contribute' at least three tee shots to the team during the round.
Less than an hour into the start of the day, David Houldsworth of NatWest International hit a hole-in-one, his first in 20 years of playing the game and a moment of absolute jubilation for him and his team who were there to see it. Unfortunately, he aced the second hole rather than the twelfth, where an Audi Q5 S-Line Sportback was up for grabs, courtesy of Bassadone Motors.
Players were kept refreshed by some of our non-playing staff who dutifully jumped in buggies to deliver cold drinks and snacks to the players. "Not a bad office for the day", commented our Group Legal Director Kyra Romano.
When the round finished in the early afternoon, players and staff all returned to the Sal Verde for drinks and a fabulous barbeque lunch on the terrace, the perfect end to the day.
Although everyone played very well, we extend our congratulations to the following individuals and teams, who were given awards by our Group Chairman Howard Bilton:
Longest Drive (Hole 1) – Monchi Triay
Reach the Green (Hole 2) and Hole-in-One – David Houldsworth
Nearest to the Pin (Hole 12) – David Deardon
Nearest to the Pin (Hole 17) – George Russo
Ladies' Longest Drive (Hole 18) – Emma Isola
Winning Team – Nico van Zyl, Richard Felipes, Ian Farrell and David Houldsworth
Second Place Team – Mike Bull, Frank Hodgson, Lino Brydges and Marc Skvorc
Third Place Team –Mark Millington, Gary Chant, Louis Montegriffo and Claus Olesen
Last Placed Team – David Easton, Alan Reynolds, Ian Woods and Paul Cole
The golf day was the brainchild of Sovereign Trust (Gibraltar) Managing Director Nico van Zyl, who has long been a golfer. "It was a pleasure to plan and host our first ever golf day and I hope it will be the first of many," he said. "There are so many people to thank for making this day a big success. A big shout out to Sophie Blake, who organised the event. Could not have pulled it off without you. Thanks again to all valued clients, associates, colleagues and friends who attended."
We are especially grateful to the Sunborn Gibraltar yacht hotel, The Infinity Group Gibraltar, Howard's Folly Wine, EBike-Gibraltar, Ristorante Casa Tua in Marbella and La Hacienda Alcaidesa Links Golf Resort for their support with the prizes.