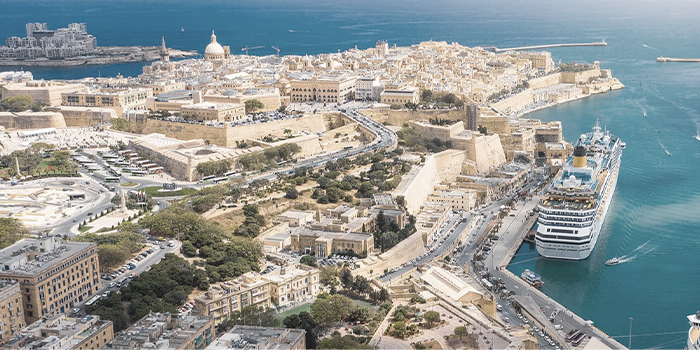 If you are looking for the best location to start up a digital business or have an existing young digital business with a proven business model and are seeking a location that offers the best prospects for future growth, then Malta may be the right solution. Below you'll find below 10 good reasons to pick Malta for your digital business.
Strategic location and connectivity
Malta is a small island in the heart of the Mediterranean Sea, strategically positioned between Europe and North Africa, which has made it a centre for trade and commerce for thousands of years. That remains a key advantage today with direct flights to capital cities and commercial hubs across Europe (Austria, Belgium, Bulgaria, Croatia, Cyprus, the Czech Republic, Denmark, Finland, France, Germany, Greece, Hungary, Ireland, Italy, Latvia, Lithuania, Luxembourg, the Netherlands, Northern Ireland, Norway, Poland, Romania, Serbia, Slovenia, Spain, Sweden, Switzerland and the UK), North Africa (Algeria, Libya and Tunisia) and the Near and Middle East (Armenia, Israel, Turkey and the United Arab Emirates).

Malta's connectivity is also digital, being the only EU member state with full coverage of ultrafast networks. Work is currently underway on a third submarine cable, which will reshape Malta's international connectivity to the rest of the world. The new cable, part of the final phase of the multinational PEACE (Pakistan East Africa Connecting Europe) project, will directly connect Malta to France, Egypt and beyond. Unlike the existing cables, it will branch out into a dual connection which means that for the first time, Malta will have an international high-speed fibre connection towards both the Western and Eastern part of the Mediterranean.

Member of the EU and Euro zone
Malta became a full member of the European Union in 2004 and joined the euro zone in 2008, which means it is not subject to currency fluctuations and is well integrated into the EU economy. Malta has implemented all the relevant EU directives in respect of corporate taxation, including the EU Parent-Subsidiary Directive and the Interest and Royalties Directive, while its highly competitive tax system has been approved by the European Commission and it is fully integrated into the EU VAT system.

Effective regulation, full EU 'passporting rights' and strong investor safeguards are the main pillars of Malta's financial centre. Malta has further enacted legislation to regulate the provision of Virtual Financial Asset services and has positioned itself as a hub for online gaming, blockchain, fintech and other new technologies.

English is an official language
Malta has two official languages: Maltese and English. With a high level of English proficiency among the population, Malta presents few barriers to international commerce and, if your business is targeting foreign markets, it will simplify your relationships to have all corporate documentation and communication conducted in English. Malta also follows what is generally termed as the European model of private law. English common law does not apply but its influence is strong in commercial practice and regulation.
Attractive tax regime for foreign investors
Malta companies are taxed at a rate of 35%. However, a full imputation system applies to the taxation of dividends, whereby the tax paid by the company is imputed as a credit to the shareholder receiving the dividend. As a result, shareholders of a Maltese company should, upon a distribution of profits, be entitled to claim a tax refund of 6/7ths of the relevant tax paid in respect of trading income and 5/7ths of the relevant tax paid in the case of passive interest and royalties. This leads to an effective corporate tax rate of around 5%. There is also no capital gains tax in Malta, which is a highly attractive feature to investors.

Malta's Consolidated Group Rules make income tax calculations and reporting for group companies and other group matters easier, because all income, outgoings and expenses derived by the companies will be considered incurred by the main taxpayer and only one tax return needs to be filed. The cash flow position of Malta companies and their shareholders may also be improved where these are entitled to tax refunds.

To encourage international trade, successive Maltese governments have sought to conclude double tax treaties with important trading partners, as well as with emerging countries. To date, treaties are in force with over 70 countries and this policy is expected to continue in the future.

If you would you like to learn more about company taxation in Malta, Sovereign's team is available to answer your questions and assist you in structuring your investment in Malta. For more information, please contact us by email to nzahra@sovereigngroup.com

Highly skilled and international staff
The Maltese workforce is one the most skilled and flexible in Europe. Maltese employees are multilingual and can adapt very quickly to new technology and market requirements. Malta performs well in human capital terms because it has a large number of ICT graduates. At the same time, labour costs in Malta rank lower than most other euro area economies.

Specialised employees in fields like digital technology, financial services, innovation or engineering, are welcomed in Malta. EU/EEA nationals have the right to accept offers of work and seek employment in Malta (whether an employee or self-employed) and to set up a business. For third-country nationals, Malta operates a Key Employee Initiative (KEI), which is aimed at fast-tracking third-country nationals in the managerial and technical sectors who are either highly skilled or highly qualified and who have been offered employment at a gross salary over €30,000 per annum.

 Low rate of employer contributions
The biggest operating costs for any start-up are usually premises (rent and rates) and staff (wages, tax, national insurance and pension contributions). You stand a better chance of making a profit – or even just surviving – in the first crucial years if you can minimise these start-up costs.

The welfare benefits system and public health care in Malta are funded through taxation and national insurance contributions from employers, employees and self-employed persons. In comparison to other European countries, Malta has one of the lowest ratios of employer contributions to salary in the EU across all salary levels. With a lower cost of employment your digital business will be more likely to succeed and flourish.

Dedicated regulation for digital markets
Malta has a healthy and growing digital and high-tech industry that generally views expansion as the next step for growth and accessing the global market. Opportunities exist both for digital start-ups and for existing businesses that might be interested in setting up regional operation centres in Malta.

Malta has established regulatory frameworks around the use of innovative technology arrangements capturing Distributed Ledger Technology (DLT) platforms, Blockchain technology and Artificial Intelligence (AI), with the primary aim of providing transparency and legal certainty. This regulatory framework positions Malta at the forefront of technological business opportunities by creating a sound platform for innovators.

Malta continues to emphasise the role of digital policies as key to shaping its competitiveness and welcomes international companies to test and operate DLT. The Malta Digital Innovation Authority (MDIA) serves as the central regulator for Blockchain technology. The government also enacted the Innovative Technology Arrangements and Services Act (ITAS) in 2018 to govern the registration of technology service providers and the certification of software and IT architectures used in designing and delivering DLT contracts.

To streamline coordination between the government and future foreign investors, Malta created a new government agency Tech Malta tasked with promoting the country's digital innovation technology strategy.

Dynamic business community
Malta has a healthy and growing ICT and high-tech industry that generally views expansion as the next step for growth and accessing the global market. Many company owners, entrepreneurs, digital nomads and freelancers of various origins have already settled in Malta. Meeting and sharing with like-minded professionals are often crucial to help a project moving forward.

The Maltese government established Tech.mt to promote the tech sector in 2019. It has focused on positioning Malta as the global hub of tech excellence, in terms of both quality and creativity, with an inviting and supportive infrastructure. it was mandated to represent and continue nurturing an environment of growth and collaboration and to foster a virtuous circle of trust among various stakeholders.

The drive to further consolidate communication with the industry was a calculated exercise to ensure that different segments were reached, from the large players to the small and medium enterprises, and the start-up community. With assistance being one of its key objectives, Tech.mt has pledged its expertise and resources to aid all types of businesses through mentoring in terms of road mapping and validation, networking and facilitating connections, access to funding opportunities, participation in international events, and supporting start-ups through accelerator programmes.

Incubator and incentives for innovative start-ups
The Maltese government welcomes international companies to test and operate Blockchain technology. It enacted the Innovative Technology Arrangements and Services Act (ITAS) in 2018 to govern the registration of technology service providers and the certification of software and IT architectures used in designing and delivering DLT contracts.

Malta also seeks to transform the potential of AI into an economic contributor. For this purpose, the government has established a task force on AI comprised of entrepreneurs, academics, and experts in the field to create a sustainable local engine for growth. Malta's recently launched its AI strategy aims to set a path for Malta to gain a global strategic competitive advantage in the field. The strategy is built on three pillars: investment, start-ups and innovation; public sector adoption; and private sector adoption.

Malta has introduced various assistance programmes for Blockchain start-ups and corporations looking to choose Malta as their operational ecosystem. Malta Enterprise has committed to offering businesses capital investment loan matches at a 1:1 ratio up to €200,000 and has regressive tax credits for companies based on their Maltese employment numbers.

More than 300 sunny days a year…
Besides having one of the strongest economies, the lowest unemployment rates and one of the world's best climates in Europe, Malta offers excellent housing, schooling, healthcare and an extremely safe environment. Considering that the wellbeing of you and your employees is a key factor in high business performance, Malta ticks all the right boxes.

Malta has a picturesque coastline with many harbours, bays, sandy beaches and rocky coves and, to go with it, a Mediterranean climate with more than 300 days of sunshine. Given a rich history spanning over 7,000 years, it also offers many cultural monuments, archaeological sites and historical treasures.

Malta has an excellent healthcare system, which has consistently been ranked among the top five in the world by the World Health Organisation. The education system in Malta is also highly ranked and many of the schools follow the UK curriculum.

Along with the high quality and standard of living, Malta is a safe country. In 2021, Malta was second safest country in the world according to the Global Risk Index, which analyses disaster risk as an interplay of natural hazards and social, political and environmental factors. It also boasts one of the lowest crime rates to be found anywhere.
If Malta seems to be the perfect location for your project, please contact Sovereign Trust Malta for further information and to discuss your business set-up by emailing Business Development Manager Nathalie Zahra below or by phone on +356 2122 8411.