LOCATION

South Eastern Europe, island in the Mediterranean Sea
CAPITAL
Nicosia
TIME DIFFERENCE
UTC+2
TOTAL AREA
9,251 km2
AGE DEMOGRAPHICS
0-14: 15.8%, 15-24: 15.8%,
25-54: 46.9%, 55-64: 10.6%,
65+: 11.0%
LANGUAGES

Greek, Turkish,
English widely spoken
RELIGIONS
Greek Orthodox, Muslim,
other
GOVERNMENT TYPE
Presidential democracy
CURRENCY
Euro (EUR)
EXCHANGE RATE:
1 USD = 0.78 EUR (2012)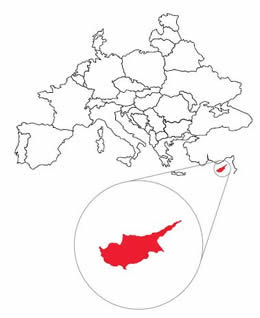 ---
1,155,403
Population Growth
1.52%
26,800 USD
GDP ( per capita)
GDP (purchasing power parity)
23.36 billion USD (2012)
---
An important hub in the heart of the Mediterranean, at the crossroads of Europe, Africa and Asia,
Cyprus is diverse, culturally rich and perfectly placed for working and traveling within and beyond
the European Union. The economy is rapidly recovering from recent recession through significant
activities in the shipping, tourism, the legal and financial services sectors, and has also seen a surge in foreign investments and developments, property and investment values.
Qualifications
Investment criteria
Offered in accordance with the Civil Registry Laws 2002- 2013, the Naturalization of Investors by
Exception Scheme is one of the fastest to lead to residence and citizenship in Europe. To qualify for
application, you will need to meet one of the requirements outlined in the "Investment Options"
section.
Application criteria
In addition to making a financial investment, applicants must also meet the following requirements:
Must have a valid passport;
Provide documents supporting the source and origin of the declared funds for investment;
Provide proof that the applicant has no criminal record;
The applicant's name must not be included in the list of persons whose property is ordered to be frozen within the boundaries of the EU;
Pay the application fees.
Why Choose Cyprus?
Cyprus boasts a rich and diverse culture, mild Mediterranean climate, a safe and stable setting which is
ideal for raising families, and perfect location for business and travelling. Investors also look at Cyprus for business and investment purposes recognizing numerous investment opportunities.
Benefits of the program:
Fast-track procedure allowing for direct path to citizenship within three months;
No physical residence requirements during or after the application procedure (the only requirement is for one visit every 7 years);
No language requirements for residence or citizenship;
No obligation to relinquish current nationality;
Low tax rates and free trade within the EU;
Legal system based on English common law.
Unrestricted right to live, work and study in Europe.
Right to own land in an EU member state;
Strategic geographical location, forming a bridge between the EU, the Middle East, and North African with direct access to the Mediterranean Sea;
Low crime rate, excellent education system with a number of high standard schools and universities and first-rate healthcare;
An outstanding holiday destination.
Investment Requirements
According to the Regulations issued by virtue of the Civil Registry Laws, foreign investors who wish to obtain Cypriot citizenship by investment need to meet the following requirements:
Must hold a permanent privately-owned residence in the Republic of Cyprus, the purchase price of which must be at least €500,000 plus applicable VAT;
Must choose one of the prescribed investment options and maintain it for the required duration.
Investment Options
1. Mixed investments and a donation to a state fund
Applicants choosing this option must deposit €2 million for the purchase of shares and/or bonds of the State Investment Company (under formation) and should make a donation of at least €500,000 to the Research and Technology Fund.
Investors need to maintain the shares and/or bonds for a period of three years.
2. Direct investment
Applicants choosing this option must make a direct investment of at least €5 million in the purchase of one of the below:
Property
Businesses or companies
Financial assets
Investors need to maintain ownership of the assets for a period of three years.
3. Bank deposit
Applicants choosing this option must have a fixed term deposit of at least €5 million for three years in a Cypriot bank.
Financed Investment
Clients can leverage their capital by choosing to finance the required investment. They can pay a reduced amount of €350,000 that will be used to finance a €5 million closed 3-year deposit at a Cypriot bank. A loan is thereafter initiated and repaid at no further cost to the investor.
4. Combination of options 1, 2 and 3 amounting to at least €5 million
5. Business activities
Applicants choosing this option must be shareholders or beneficiary owners of a company, the management of which is in the Republic of Cyprus and the company has contributed at least €500,000 per annum in the past three years to state funds (corporate tax, VAT, etc.).
6. Persons whose deposits with the Bank of Cyprus or Popular Bank have been impaired
Applicants that have incurred an impairment in deposits on one or both of the aforementioned Banks amounting to a total of at least €3 million can apply for Cypriot citizenship. In case that the impairment incurred is less than €3 million, one can cover the difference by making an additional investment in the above-mentioned options.
Application Fees
Application fees for a typical family of four are:
Legal Fees: €50,000.
Government Fees: start at €15,000 and vary with the number of dependents.
Additional taxes and duties apply. VAT may be reduced to 5% from the going rate under certain terms
and conditions.
All application fees charged by the Cypriot government and by Sovereign are subject to change. These fees depend on the number of applicants and the complexity of the process. Please contact us if you have any questions or need more information.
Steps and Timeline
The table below breaks down the application process into 9 basic steps. Some require the applicant's involvement while others are executed by Sovereign. Each step must be completed before continuing to the next.
PHASE 1
Main applicant (and spouse)
STEP 1
All necessary documents must be prepared by the applicant and signed before a Cypriot consul or a Court Registrar in Cyprus.

STEP 2
Preparation of application file, signing of Sale Agreement for Residential Property and other required steps for the property transaction and completion of bank transaction.

STEP 3
For the Financed Investment the funds must settle into the Cypriot bank, the full purchase price of the residential property must be remitted into the developer's account, and fees and costs must be paid.

STEP 4
Application lodged at the Ministry of Interior.

STEP 5
Approval, settlement of purchase price of residential property, settlement of remaining legal and processing fees.

STEP 6
Issuance of naturalization certificate(s) and issuance of passport(s) for the main applicant and spouse.
PHASE 2
Family members (subject to successful completion of Phase I)
STEP 7
All necessary documents must be prepared by applicant and signed before a Cypriot consul or a Court Registrar in Cyprus.

STEP 8
Application lodged at the Ministry of Interior.

STEP 9
Issuance of naturalization certificate(s) and issuance of passport(s) for the family member(s).
For more information email info@SovereignGroup.com or click here to find your nearest office.
---
DISCLAIMER – © The Sovereign Group 2014
Whilst every effort has been made to ensure that the details contained herein are correct and up-to-date, this information does not constitute legal or other professional advice. We do not accept any responsibility, legal or otherwise, for any error or omission.