LOCATION

North America
CAPITAL
Washington, DC
TIME DIFFERENCE
UTC -5
TOTAL AREA
9,826,675 km2
AGE DEMOGRAPHICS
0-14: 20%, 15-64: 66.2%,
65+: 13.9%
LANGUAGES
English 82.1%
Spanish 10.7%
Other 7.3%
RELIGIONS

Roman Catholic: 23.9%
Protestant: 51.3%
Christian: 4.4%
Muslim: 0.6%
Other: 19.8%
GOVERNMENT TYPE
Constitution-based federal
republic, strong democratic
tradition
CURRENCY
US dollar (USD)
EXCHANGE RATE:
1 USD = 0.7838 EUR (2012)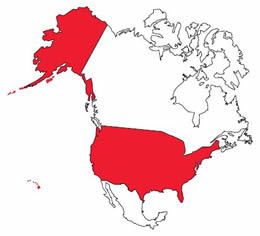 ---
316,668,567
Population Growth
0.9%
50,700 USD
GDP ( per capita)
GDP (purchasing power parity)
15.94 trillion USD (2012)
---
Live the American Dream for yourself and move to the U.S., a cultural melting pot with a thriving economy, a wealth of opportunities, and one of the highest standards of living of anywhere on the globe.
Qualifications

Applicants must meet all of the following requirements to be eligible for the program:
Be at least 21 years of age;
Show legal source of assets and funds;
Choose from one of the available investment options.
Why Choose The U.S.?
Known over the world as the land of opportunity, the United States of America boasts a rich and diverse culture, one of the strongest currencies in the world, and one of the most sought-after passports on the planet. Through the USA EB-5 Immigrant Investor Program, applicants can enjoy a host of exclusive benefits including:
No language skills required;
No minimum education required;
No business or management experience required;
Investment capital can come from a gift, inheritance, business ownership or any other lawful activities;
No obligation to live in the area of investment;
The opportunity to live, work and study anywhere in the U.S. and benefit from lower tuition fees;
Inclusion of dependent children under the age of 21.
Investment Options
There are two investment options within the USA EB-5 Immigrant Investor Program:
1. Creation of a new U.S. enterprise
To be eligible for this investment option, the applicant must meet the following criteria:
Make an investment of US$ 1 million in a new commercial enterprise, or US$ 500,000 if that enterprise is in a targeted commercial area, which includes rural areas or areas with unemployment of at least 150 percent that of the national average;
Create full time employment for at least 10 qualified U.S. workers, who must be direct employees of the commercial enterprise;
Actively manage the day-to-day activities and/or policy formulation of the enterprise.
2. Invest in a regional center
Regional centres are investment opportunities that have been pre-approved by the U.S. Citizenship and Immigration Services (USCIS). To be eligible for this investment option, the applicant must meet the following criteria:
Make an investment of US$500,000;
The enterprise must create full time employment for at least 10 qualified U.S. workers, where indirect employment is permitted;
Active management of the enterprise is not required.
Citizenship Requirements

If you are a non-conditional Green Card holder for at least five years, you can apply for naturalization if you meet the following requirements:
Be 18 years or older;
Have lived within the state, or USCIS district with jurisdiction over your place of residence, for at least three months prior to the application;
Have continuous residence in the U.S. as a Green Card holder for at least five years immediately preceding the application.
Be physically present in the U.S. for at least 30 months out of the five years (60 months) immediately preceding the application.
Reside continuously within the U.S. from the date of application for naturalization up to the time of naturalization;
Be able to read, write and speak English, and have knowledge and an understanding of U.S. history and government (civics);
Be a person of good moral character, in keeping with the principles of the Constitution of the United States, and well disposed to the good order and happiness of the United States during all relevant periods under the law.
Application Fees
Advisory and legal fees – US$15,000
Regional Center fees – US$50,000
I-526 – US$1,500
DS-230 (per person) – US$405
I-829 – US$3,750
I-829 submission fee – US$2,500
Biometrics (per person) – US$85
All application fees charged by the U.S. government and by Soveriegn are subject to change. These fees depend on the number of applicants and the complexity of the process. Please contact us at info@SovereignGroup.com if you have any questions or need more information.
Steps and Timeline
The following table breaks down the U.S. visa application process into eight basic steps. Each step
must be completed before continuing to the next.
STEP 1A
Applicant selects an investment option and starts application preparation. Advisory and legal fees are due at this stage.

STEP 1B
OFAC (Office of Foreign Asset Control) license may be required for some nationalities.

STEP 2
Applicant transfers investment and Regional Center fee into a nominated escrow account.

STEP 3
Immigrant Petition by an Alien Entrepreneur application (I-526) is lodged with USA National Visa Center (NVC).

STEP 4
Immigrant Petition is approved by U.S. authorities.

STEP 5
Visa application (DS-230) is lodged with local U.S. consular mission or embassy. Applicant and family may be subject to biometric tests.

STEP 6
Medical and health screening.

STEP 7
An interview with the applicant may be requested and conducted. All original documents should be available.

STEP 8
Visa is approved and stamped in applicant's passport. Conditional EB-5 is issued. Applicant and family must enter the U.S. within 180 days.
For more information email info@SovereignGroup.com or click here to find your nearest office.
---
DISCLAIMER – © The Sovereign Group 2014
Whilst every effort has been made to ensure that the details contained herein are correct and up-to-date, this information does not constitute legal or other professional advice. We do not accept any responsibility, legal or otherwise, for any error or omission.