Team Sovereign smash Med Steps 5 Challenge Gibraltar in aid Cancer Relief!
---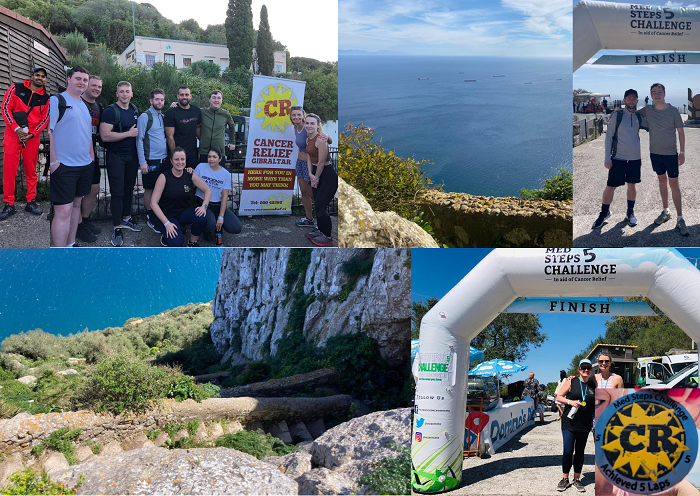 The Mediterranean Steps is a beautiful nature trail and footpath which winds its way up part of Gibraltar's Upper Rock Nature Reserve. It was built by the British military as part of their communications system and to allow troops access to various defence posts on the southern side of the Rock of Gibraltar, with WWII buildings and two 9.2 inch guns of Lord Airey's Battery and O'Hara's Battery still in existence today. It is steep and strenuous. The path runs mainly along the eastern side of the Rock, starting at Jews Gate, in dense vegetation and gradually opening out, giving a spectacular view of North Africa across the Strait.
Indeed, from this vantage point one can really appreciate how advantageous a spot this is from a military point of view, as described by the UK Defence Journal: "Standing over 30 meters taller than the highest point of the Empire State Building the Rock historically enabled a visual long range vantage point into Spain, the Mediterranean Sea and Morocco that could be used to spot enemy movements which Britain could take the necessary pre-emptive measures against. This is still the case today, but rather than only a visual vantage; the rise of technology coupled with the height of the Rock enables an audible vantage where the military are able to both transmit and receive communications over great distances."
Today, it is mostly used as a pedestrian route linking Jew's Gate to Lord Airey's Battery near the summit of Rock. The path offers stunning views but is nonetheless a gruelling steep incline to walk up. Most people after walking a lap once are exhausted, however on Saturday, some incredible members of the local community attempted to climb it 5 times, and some of them did! They took part in the Med Steps 5 Challenge, organised by Mark Cooper, to fundraise for Cancer Relief Gibraltar. This is the ninth time the annual charitable event has been run and 286 people took part this year. It was exceptionally well organised, with a warmup provided, physiotherapist on hand, music, refreshments, encouraging volunteers, and a great vibe full of enthusiasm to help participants push themselves to achieve 'the impossible!' in the fight against cancer.
Representing Team Sovereign were Emma Cooper (whose husband Mark organises the event); Lynette Chaudhary; Sadye Ryder; James Hunter; Brendan Daly; Nathan Nanwani; Aaron Dawson; Adrian Cheney; Armandas Bespalovas; Titus Tinca; Chrisanne Perera and Kovilen Virassamy.
It was a bright morning when the team gathered at 8.45am and many thought they would only manage a couple of times up the Med Steps, and that would be a very good achievement. However, as the day opened out, the team performed incredibly well. After hours of effort, endurance and ferocious, incessant stepping, many members of the team managed the full 5 laps (18km and 3,000m ascent). After 6 hours even Lynette's 11- and 13-year-old sons achieved this impressive feat. This really cannot be understated and is an excellent achievement by all. There are plenty of tired legs but lots of satisfaction at not only taking part in this wonderful event for a cause that helps so many at such a difficult time but smashing the challenge!
If you would like to celebrate their achievement you still can, Lynette has a JustGiving page for Cancer Relief Gibraltar Lynette Chaudhary is fundraising for Gibraltar society for Cancer Relief (justgiving.com) which will be open until 31 May 2023.