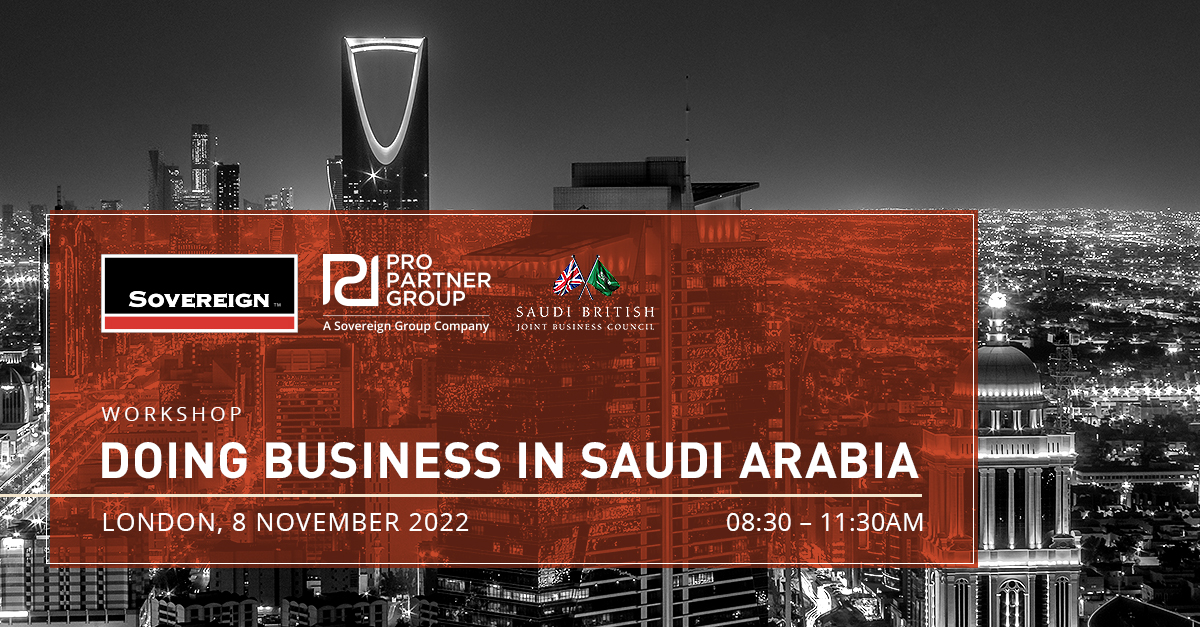 The Saudi British Joint Business Council in partnership with Sovereign would like to invite you to our 'Doing Business in Saudi Arabia' Workshop.
Date: 08 November 2022
Time: 08:30 Registration and breakfast for a 09:00 – 11:30 workshop
Location: The Caledonian Club, Johnnie Walker Room, 9 Halkin Street, London SW1X 7DR
The workshop will address some of the questions and concerns about entering the Saudi market, whilst analysing the extensive number of opportunities available, and hearing first hand from companies who have successfully set up in the Kingdom over the last few years.
We aim to give you a clear and unbiased picture of the opportunities in Saudi Arabia, including potential challenges and how to overcome them. Following the workshop, there will be an opportunity to network and put questions to panellists.
Agenda

08:30 – 09:00 Registration and breakfast
09:00 – 09:15 Welcome from SBJBC and Sovereign
Simon Denton and Paul Arnold, Managing Director, Sovereign UK and Saudi Arabia
Chris Innes-Hopkins, UK Executive Director, SBJBC
09:15 – 09:35 Ministry of Investment Saudi Arabia (MISA) Presentation
Abdulaziz AlGhifaili, International Office Director, MISA
09:35 – 10:15 Emerging sectors in Saudi Arabia, the new Vision 2030 and the resulting opportunities
This panel will cover the 'Emerging Sectors' in Saudi Arabia, including Tourism and Technology alongside sectors at the heart of Saudi Vision 2030 such as Infrastructure, Education and Healthcare. We will hear from companies who are active in these sectors and who have taken advantage of these new opportunities.
10:15 – 11:00 Setting up in Saudi Arabia and Navigating the Business Environment
This panel will discuss recent reforms of the business environment including options for setting up locally and what help is available to companies. During this panel debate, you will not only hear from institutions who can help you navigate the market successfully, but from companies that can talk candidly about their experience in setting up in Saudi and how they have worked through some of the key issues.
11:00 – 11:15 Questions
11:15 – 11:30 Networking including light refreshments being served
If you have any queries, please contact Cordelia Begbie on operations@sbjbc.org or Roberta Giordano on rgiordano@sovereigngroup.com