The Sovereign Art Foundation – Special Workshop with Shortlisted Artists
---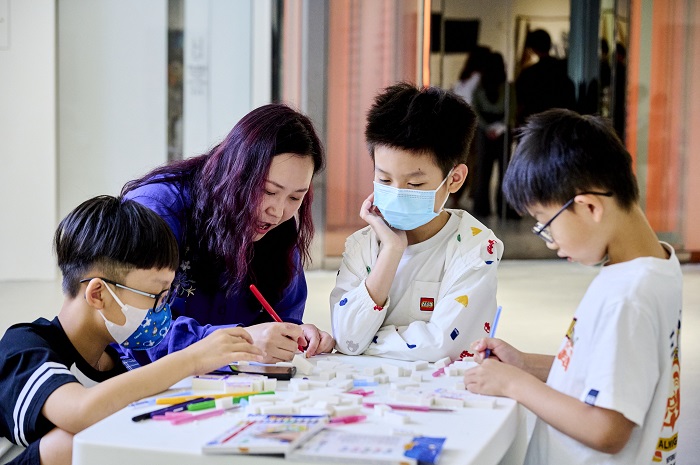 In May, the Sovereign Art Foundation (SAF) celebrated the conclusion of the 2023 Sovereign Asian Art Prize – the 19th edition of Asia's longest established and most prestigious award for contemporary art. The project culminated in a gala dinner, charity auction and awards ceremony, as reported in our May newsletter.
Thirty artists were shortlisted for the Prize, and their artworks were presented to the public in a 10-day Finalists' Exhibition. On 13 May, SAF invited a group of their beneficiaries to visit the exhibition and participate in a special workshop led by two Hong Kong-based finalists: Sophie Cheung and Li Ning.
The workshop formed part of last term's 'Make It Better' programme, through which SAF supports children with special educational needs from low-income families. The session enabled the children to learn about new artistic techniques directly from the artists, while sitting amongst the artworks themselves.
Sophie's workshop was inspired by her artwork, 'Erasing News: Stone and Plant Variation Under the Flyover'. The work used newspaper ink and erasers, which undergo a transformative process when rubbed together. The children were invited to explore erasers as a medium, using their senses to consider the texture, shape, colour, smell, sound and visual markings erasers can make. Through this activity, the children worked as a team, engaged in sensory exploration, and made thoughtful observations on their experience.
Sophie said of the workshop: "The eraser is not simply personal stationary for correction, it is a children's toy for sensory exploration. This is a type of heuristic play with an object, allowing children to discover art in their own way."
Li Ning's shortlisted artwork, 'Hybrid', also served as the inspiration for his workshop. To create the work, he printed on coloured Gampi paper, then added details with ink and spray-paint. In the workshop, Li Ning imparted his specialist knowledge on engraving and printmaking to the children.
He said of the experience: "This workshop offered me the chance to meet kids I would not normally meet in my daily life. I believe we can learn from each other's perspectives towards different things, and their unique outlooks have become a stimulation and inspiration for my own creativity."
Overall, the workshop allowed for both artists and children to learn from one another by bringing together the two pillars of SAF's mission: supporting vulnerable children and recognising contemporary art talent. To learn more about SAF, click here.